The EU's Human Rights Unit told RFE/RL that Politkovskaya is among the candidates for the Sakharov Prize for Freedom of Thought.
Politkovskaya, who wrote frequently about rights abuses in the restive Russian republic of Chechnya, was gunned down in the stairwell of her Moscow apartment in October 2006.
Other candidates for the prize include an Afghan women's rights defender and lawmaker, Joya Malalai; Ecumenical Orthodox Patriarch Bartholomew; two Chinese rights defenders; and a Sudanese human rights attorney.
A short-list of three will be announced on September 24, with the winner chosen in October.
The Sakharov Prize is awarded annually to individuals and groups fighting against oppression, intolerance, and injustice. It is named after Soviet dissident Andrei Sakharov, and comes with a check for 50,000 euros ($63,000).
Last year, the prize was awarded to Belarusian opposition leader Alyaksandr Milinkevich.
Other winners of the prize include international media watchdog Reporters Without Borders, Kosovo leader Ibrahim Rugova, rights campaigners Nelson Mandela of South Africa and Wei Jingsheng of China, and Czech leader Alexander Dubcek.

Reading Politkovskaya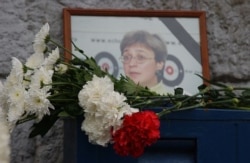 A memorial for Anna Politkovskaya in Moscow shortly after her murder (epa)


'A SMALL CORNER OF HELL': RFE/RL's Russian Service invited a number of prominent Russians to read passages from Anna Politkovskaya's second book on the war in the North Caucausus, "A Small Corner Of Hell: Dispatches From Chechnya" (see transcripts in Russian).The excerpts below are in Russian and are each about five minutes long.
LISTEN
Nikita Belykh, head of the Union of Rightist Forces:
Real Audio Windows Media
Sergei Buntman, political commentator with Ekho Moskvy:
Real Audio Windows Media
Andrei Babitsky, RFE/RL Russian Service correspondent:
Real Audio Windows Media
Vyacheslav Izmailov, "Novaya gazeta" journalist:
Real Audio Windows Media
Marianna Maksimovskaya, host of REN-TV's "Nedelya":
Real Audio Windows Media
Eduard Limonov, head of the National Bolshevik Party:
Real Audio Windows Media
Svetlana Sorokina, television journalist:
Real Audio Windows Media
CHRONOLOGY
The
fighting in Chechnya
has raged, with short breaks, since 1994. It has brought misery, death, and destruction to the North Caucasus republic and to Russia as a whole. View an
annotated timeline
of the conflict
.

ARCHIVE
RFE/RL's complete coverage of Russia's war-torn Republic of Chechnya.