Moscow has never hidden its long-standing antipathy toward the Office for Democratic Institutions and Human Rights (ODIHR), the OSCE's election-monitoring body. And now Russia has slashed the number of invitations extended to foreign election observers -- and says its ultimate aim is to cut that number even further. As one of the OSCE's 56 member states, Russia says it reserves the right to decide on the scope and duration of all ODIHR monitoring missions on its territory.
It was a shocking development for ODIHR, which is often criticized by Russia and other Commonwealth of Independent States (CIS) countries for its typically harsh assessments of ballots "east of Vienna." Yet while significant, Russia's move was merely its latest step in a broader bid to reshape the OSCE by shifting its focus to security issues -- at the expense of its human rights and democracy functions.
For the United States, which strongly backs ODIHR's work, the development is another wrinkle in its uneasy relationship with Moscow. In Vienna, U.S. Undersecretary of State Nicholas Burns said on November 1 that Washington "regrets very much" the decision by Russia, which he described as "unprecedented."
Too Little, Too Late
On October 31, Moscow sent its "unhurried" invitation to ODIHR monitors. Such invitations are generally extended at least three months in advance to give the body time to deploy its observers. This time, Moscow left barely a month for the group to rally its forces. "We certainly would have liked [the invitation] to come earlier," ODIHR Director Christian Strohal says.
The invitation came three days after candidates for the election were formally registered -- a critical stage in an election that is expected to see a clean sweep by the pro-Kremlin Unified Russia party. In 2003, the OSCE had some 50 long-term monitors on hand in Russia to observe the registration.
"We're currently looking at the implications, and we will see how fast our deployment will be possible," Strohal says. While he acknowledged the possibility that his office might ultimately decide to send no observers because minimal conditions for a "professional job" could not be met, Strohal says he hoped for a different outcome.
Moscow's decision to reduce the number of OSCE observers comes amid a tense debate on the efficacy of the organization in general, and of its election-monitoring body in particular.
The ODIHR has criticized most parliamentary and presidential ballots that have taken place in the CIS as failing to meet democratic standards. For that reason it has long been the target of Moscow's ire.
Russia claims the ODIHR is guilty of double standards by focusing selective attention to elections in post-Soviet states, a charge Strohal denies. The Kremlin also blames the OSCE's bad marks on elections in Georgia and Ukraine for prompting the Rose and Orange revolutions that saw the toppling of those countries' political regimes.
Russian Foreign Minister Sergei Lavrov earlier this year described ODIHR as a "politicized" organization that operates beyond the control of OSCE member states.
Moscow is therefore seeking to put ODIHR under the supervision of the Permanent Council, the OSCE's main regular decision-making body. Since consensus is required on all council decisions, such a move would give Russia and other CIS countries an effective veto over ODIHR's election reports.
Russia and six other CIS countries (Armenia, Belarus, Kazakhstan, Kyrgyzstan, Tajikistan, and Uzbekistan) recently put forward a proposal they hope will figure on the agenda of the November 29-30 OSCE ministerial council in Madrid.
The proposal calls for limiting to 50 the number of ODIHR experts sent to monitor any given ballot. It also suggests that OSCE observers be forbidden to offer snap commentary on any elections until the inviting country releases its own official results and an election mission report is presented to the Permanent Council.
Strohal, choosing his words carefully, has described the proposal as both a "legitimate" attempt to initiate a debate about ODIHR among member states, and an effort "to deconstruct the current framework for election observation."
"If there is any way to strengthen the work we are doing, that's fine," Strohal said on November 1. "But I don't think this is the intention of this proposal."
Shifting Focus
This is not the first time Russia is enlisting the support of its CIS neighbors to demand an in-depth reform of the OSCE and some of its institutions.
In a letter made public at a July 2004 CIS summit, Russian President Vladimir Putin and the heads of states of another eight former Soviet republics (Armenia, Belarus, Kazakhstan, Kyrgyzstan, Moldova, Tajikistan, Ukraine, and Uzbekistan) criticized the ODIHR as "failing to take into account the specificities of individual countries."
The signatories also accused the OSCE of interfering in the internal affairs of their respective countries by paying too much attention to human rights and neglecting economic, environmental, and politico-military issues. In so doing, the signatories argued, the OSCE was restricting its ability to meet "new challenges and threats."
Earlier this year, Russia drafted what it calls a new "charter" for the OSCE, which details its vision of how the organization should work. In addition to shifting the OSCE's priorities toward security issues, Russia's proposed "charter" seeks to put the ODIHR and all other OSCE institutions under the direct supervision of the Permanent Council.
The United States has staunchly opposed the proposed reforms, arguing that they could "undermine" the OSCE and its work. "We do not believe that a charter should be negotiated," U.S. Ambassador Julie Finley told Lavrov in May.
U.S. Undersecretary of State Burns echoed the sentiment on November 1, saying Washington would not support Russia's recent proposal "to change the way that ODIHR does business." Burns also described the plan as "quite negative" and unlikely to win support for being put forward at the Madrid conference.
Kazakh Card
In their present form, neither of the initiatives stands any realistic chance of being debated -- let alone adopted -- in Madrid. Were Moscow to put forward the proposals at the ministerial council, Washington and other capitals would simply respond with alternative proposals, forcing the issue into extended negotiations and compromise. So why, then, is Russia stepping up pressure ahead of Madrid?
Perhaps one explanation lies in the fact that the conference is due at the council to decide on Kazakhstan's bid to chair the OSCE in 2009.
The organization originally had been expected to make a decision last year, but it eventually voted to defer an assessment, to give Astana more time to improve its democracy and human rights record. One year later, there is still no consensus among participating states as to whether Kazakhstan is ready to take the helm of the organization.
Russia and all other CIS countries strongly support Astana's chairmanship bid, while the United States and a number of European countries remain opposed to it. Washington has suggested postponing an offer to Astana to lead the OSCE until 2011, but it looks unlikely that Russia will agree.
Moscow's insistence on curbing the work of ODIHR and circulating controversial proposals ahead of the Madrid conference could be part of a strategy to negotiate an earlier date for Kazakhstan in return for putting its own controversial reform plans on hold.
All involved are well aware that an Astana chairmanship would undoubtedly provide a significant boost to Moscow's efforts to reshape the organization. Addressing the Permanent Council on September 20, Kazakh State Secretary Kanat Saudabaev said granting the chairmanship to his country would help transform the OSCE into an organization "where the opinions of all participating states are taken into account."
Kazakhstan And The OSCE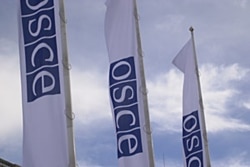 READY TO LEAD THE OSCE? Kazakhstan has been lobbying to be granted the rotating chair of the Organization for Security and Cooperation in Europe (OSCE) in 2009. In March, current OSCE head Karel De Gucht visited the country and said Kazakhstan is better prepared to head the OSCE than any other Central Asian country. But concerns about the state of democracy, the media, and ethnic relations make Kazakhstan's bid extremely controversial....(more)
RELATED ARTICLES
OSCE Says Kazakh Presidential Vote Flawed
OSCE Says Kazakh Obligations Not Met Ahead Of Vote
OSCE Offers Amendments To Kazakhstan's Draft Media Law
ARCHIVE
RFE/RL's
coverage of Kazakhstan
. The website of
RFE/RL's Kazakh Service
.