Putin did not run for a third consecutive term because of a constitutional prohibition that he vowed not to change. Medvedev's popularity rating, which had hovered around 10 percent in the polls, skyrocketed after Putin's announcement in December, and Medvedev won a decisive victory in the March 2 election. The carefully choreographed transfer of power has muffled, at least for the time being, intense infighting over power and property within the Russian leadership that began last fall, when Putin first gave clear signs that he would leave the top office.
Medvedev has an image as a leader who is more liberal on economic and political issues than the so-called silovik wing of the Kremlin and, indeed, Putin himself. His public comments during the presidential campaign reinforced this perception. While he may actually disagree with Putin on some issues, we believe many of these statements are largely calculated to gain Western acquiescence to a manipulated election. Medvedev is a product of the system he will lead, and Russia's domestic and foreign-policy course is unlikely to change in fundamental ways.
The succession scenario is likely to play out over many months, however, and there are many uncertainties ahead. The transfer of power could create a constitutional crisis. The office of the president is far more powerful in Russia than that of the prime minister -- the president controls the military, the security services, and other key parts of the government. Putin has stated that he will not seek to change the constitutional authority of either post; however, he remains Russia's de facto leader. It is possible that at some point in his term Medvedev could step down, with Putin returning to the presidency via a special election. Finally, the hard-line Kremlin factions who opposed Medvedev and moved to grab additional power in recent months are down, but not out -- and they could still move to undermine the new president.
Putin's Calculations
Why Medvedev? Although he had long been considered a contender for the presidential office, Putin had other choices, among them two more hard-line possibilities: First Deputy Prime Minister Sergei Ivanov and Prime Minister Viktor Zubkov. Both of these men had substantial support from powerful Kremlin clans. The group led by Igor Sechin, the shadowy deputy head of the presidential administration, with heavy representation from the security services and control of the Rosneft state petroleum giant, reportedly backed Zubkov.
After months of prevaricating about his succession plans, Putin chose Medvedev, his trusted protege. This choice reflects several motivations, each of which is intended to continue the country's current political course.
First, Putin wants to maintain the existing intra-elite configuration, which is characterized by informal, competing alliances of bureaucrats, members of the security services, and businesspeople. Putin has in the past ensured the stability of this system by balancing these groups. As the fight among them for political influence and control over the economy intensified in recent months, with the Sechin group appearing to have the decisive edge, Putin tilted toward Medvedev, thus restoring the balance.
Second, Medvedev, who is widely seen abroad as a relative liberal, was considered more likely to win international acceptance of manipulated election results than any of his rivals. This is especially important because the Kremlin needs access to international markets, which have enriched much of Russia's elite. It also needs foreign investment and credit to fuel Russia's future economic growth.
Finally, Putin wishes to continue cooperation with the West on important issues, such as preventing the proliferation of weapons of mass destruction and combating international terrorism, even as the Kremlin is likely to continue pursuing an assertive, sometimes anti-Western foreign policy under Medvedev. Medvedev's reputation as one of the most liberal members of the Kremlin leadership has already sent a signal to the West that Putin wants to keep relations within manageable bounds.
Who Is Dmitry Medvedev?
Dmitry Anatoliyevich Medvedev was born in Leningrad on September 14, 1965, the only child of a family from the ranks of the Soviet intelligentsia. His father, Anatoly Afanasiyevich Medvedev, was a professor at the Leningrad Technological Institute. His mother, Yulia Veniyaminovna Shaposhnikova, was first a teacher at the Hertzen Leningrad Pedagogical Institute and then a guide at a city museum. There has been widespread speculation that his mother is Jewish.
However, after his selection the Russian Orthodox Church strongly endorsed Medvedev's candidacy and declared that it knows him as a "believer." In an interview with "Itogi" on February 19, 2008, Medvedev admitted that he was baptized at a "mature age." He also implicitly denied rumors that he was Jewish by saying that his maternal grandparents originated from Belgorod Oblast and had the Russian-sounding surnames Shaposhnikov and Kovalyov.
Medvedev's formative years were the 1970s, when many Soviet teenagers were enthusiastic about Western pop culture, particularly rock music. Medvedev was no exception. In his own words, he was and is a great fan of heavy-metal groups, particularly Led Zeppelin, Black Sabbath, and Deep Purple, "Itogi" reported on April 14, 2006. On February 14, 2008, Medvedev and Putin attended a Kremlin concert by Deep Purple.
Medvedev's first teacher, Vera Smirnova, recently provided another picture of Medvedev -- perhaps one more in keeping with his image today. "He always tried very hard," she said, "devoting all his time to his studies. One very rarely saw him playing with other boys, running with a ball. He looked like a small, serious old man." Medvedev met his future wife, Svetlana Linnik, at Leningrad secondary school No. 301. They married in 1989, when Medvedev was 24. Today they have a son, Ilia, who is 9 years old.
Product Of The System
After graduation from secondary school in 1982, Medvedev enrolled in the prestigious law faculty of Leningrad State University (LGU), which in the 19th and 20th centuries trained many outstanding political figures, including three prime ministers; Boris Sturmer, the head of the Tsarist Council of Ministers; Aleksandr Kerensky, the head of the Provisional Government in 1917; and Vladimir Lenin.
During the Soviet period, the law faculty of LGU trained cadres for the Soviet legal and law enforcement systems. Enrollment was limited to those candidates who had a special recommendation, or "kharakteristika," from the Soviet Army, the Komsomol, or the law enforcement branch of the security organs. Putin, who graduated from the same faculty, got his recommendation from the security organs and, after graduation, joined the KGB.
Medvedev studied at the department of civil law, from which he graduated in 1987. During this period, he met Anatoly Sobchak, the future mayor of St. Petersburg, who lectured at LGU on civil, economic, and trade law. Those who knew Medvedev in those years describe him as purposeful and career-minded.
For a successful career, law students at that time needed two things: excellent grades and active participation in the Komsomol. Medvedev had both. Medvedev was granted a Lenin stipend, an enlarged allowance for distinguished students, and he was active in the local Komsomol. In fact, Medvedev's initial political, business, and social experiences were almost all linked to the Komsomol. In the mid-1980s, he was active in a Soviet youth project constructing housing in Leningrad. The project was sponsored by the local Komsomol and, in particular, Dmitry Kozak, another alumnus of the LGU law school, and Valentina Matvienko, the secretary of the Komsomol in the city.
In 1989, Medvedev took part in Sobchak's mayoral campaign, and after graduation he joined Sobchak's team. Putin, Sobchak's first deputy, selected Medvedev to be the city's legal expert. At the same time, Medvedev was involved in other business and professional activities, including lecturing at LGU. Medvedev worked with Putin until 1996 and became a friend and trusted adviser.
Medvedev served on Putin's city council team until 1996, and continued to lecture at LGU right up until his move to Moscow in 1999. He also co-authored a handbook on civil law that won a special state award as an outstanding learning aid in 2001. About 1.5 million copies of the book were published.
As a legal consultant for Putin, Medvedev was also involved in business projects. In 1992 he worked as a lawyer for the insurance company Rus, headed by St. Petersburg businessman Boris Reznik. In 1992 he was a co-founder, together with Zakhar Smushkin and brothers Boris and Mikhail Zingarevich, of a company called Fintsel. Over the next years, Fintsel founded Ilim Pulp Enterprises, a Russian-Swedish joint venture and the biggest producer of pulp and paper in the country.
According to media accounts, Medvedev owned a 50 percent stake in Fintsel and a 20 percent stake in Ilim Pulp. (By 2006, the company employed 42,000 people and had revenues of $1.67 billion). Medvedev worked as Ilim's legal director from 1994 to 1999 but suspended his activities in the firm after he joined the government in 1999. While in St. Petersburg in the 1990s, Medvedev also worked as a legal consultant for Promstroibank.
In November 1999, Putin, then Russia's prime minister, appointed Medvedev as his deputy chief of the government apparatus and, a few months later, as deputy chief the presidential administration. In 2000 Medvedev headed Putin's first presidential election campaign. In June 2000, Medvedev replaced former Prime Minister Viktor Chernomyrdin as the chairman of the board of directors of Gazprom.

The Gazprom Years
Vladimir Putin made most of the key decisions facing Gazprom during Medvedev's tenure there. In several instances, however, Medvedev put his own imprint on the company, especially in power struggles against such heavyweights as Chernomyrdin and former company CEO Rem Vyakhirev. Medvedev eventually replaced Vyakhirev and brought on a Putin ally, Aleksei Miller.
Medvedev also managed to use the gas giant's increasing economic power to extend the Kremlin interests far beyond the energy sector. For example, Gazprom bought out several independent media outlets, transforming them into Kremlin mouthpieces. In 2001, Medvedev headed negotiations with an investment consortium led by U.S. media mogul Ted Turner and financier George Soros over the possible purchase of the troubled NTV television channel. The channel had belonged to Vladimir Gusinsky, who, by that time, had been forced by the Kremlin to leave the country. The talks failed, and NTV, which had been the biggest television network to escape Kremlin control, became part of Gazprom-Media, a subsidiary of Gazprom. Since that time, Gazprom-Media has swallowed up other "liberal" outlets, such as Ekho Moskvy radio, City-FM, and the daily newspaper "Izvestia."
Medvedev also played a role in the formulation and implementation of Gazprom's aggressive energy policies toward countries of the former Soviet Union. Gazprom has also tried to squeeze out foreign companies from the Russian domestic market. It succeeded in taking control from Shell and BP of the vast Sakhalin-2 project. Medvedev also participated in shaping Gazprom's policies for the "near abroad," which resulted in higher gas tariffs for Georgia, Ukraine, and Belarus from 2004-06.
Rocket Man
In 2004, Putin appointed Medvedev to head the presidential administration. The next year, he named Medvedev as his first deputy prime minister responsible for the so-called national projects involving long-term state investment programs in education, health care, housing, and agriculture. Although some critics have asserted that the projects mainly provide opportunities for graft, responsibility for these projects helped to launch Medvedev's presidential campaign. In addition to boosting his visibility in the media, leadership of the national projects provided Medvedev with opportunities to cement his connections with regional elites. In the 18 months before the election, Medvedev made more than 60 trips to Russian regions, more than any other top Kremlin official except Putin.
The Russian Orthodox Church rates Medvedev highly, and no political profile of Medvedev would be complete without mentioning his close ties to the Moscow Patriarchate. As the nationalist publisher Aleksandr Prokhanov put it: "Medvedev has two powerful rocket boosters to take off: one is Vladimir Putin and the second, the Russian Orthodox Church." In March 2007 a special government commission headed by Medvedev approved the principle of church property restitution, a policy calling for the return of property, land, and assets confiscated from the Orthodox Church after the Bolshevik Revolution. Before the revolution, the church had been one of the biggest landowners in the Russian Empire.
In December 2007, Medvedev announced that the new State Duma should adopt a law establishing that a diploma from the church's higher-education institutions are in full compliance with national educational standards. This would create the opportunity for church officials to teach religion in the country's universities. Medvedev's wife, Svetlana, is also actively involved in several church-sponsored charity programs, and recently was given a special church medal by Patriarch Aleksy II.

The Medvedev Agenda?
Although politically a creature of his patron, Medvedev has a reputation as being more liberal than Putin. But Medvedev's views on many issues are unknown. He has publicly criticized as "unilateral and obscure" the term "sovereign democracy," the ruling idea much of the Putin court has used to justify the country's move toward bureaucratic authoritarianism. Medvedev thought the term too reminiscent of the Soviet-era oxymoron "socialist democracy." He was also less publicly enthusiastic than Putin about the jailing of former oligarch Mikhail Khodorkovsky.
Medvedev is probably a modernizer, rather than a democrat. He will likely emphasize improving Russia's transport, industrial, and social infrastructures, which have been his responsibilities in the government. Although Medvedev has lamented official corruption, he has been a champion of the partnership between businesses and the state that has encouraged cronyism and bribery. Taking into account his ties to Gazprom, Medvedev is likely to help the natural-gas giant with domestic prices and taxes and favor it in new acquisitions. Gazprom has also sought to increase its electricity assets, a move that has been resisted by Anatoly Chubais, the chief of Unified Energy Systems (EES).
On foreign policy, Medvedev is widely seen as less confrontational, desiring better relations with Europe and the United States. From time to time, he has taken a softer line toward the West than some of his colleagues on issues such as Russia's accession to the World Trade Organization (WTO). Nonetheless, Medvedev is a strong supporter of transforming Russia into an energy superpower, as his affiliation with Gazprom might imply.
In any case, in seeking to determine Russia's future, Medvedev's views are, at least for the present, less important than the political, commercial, and bureaucratic interests of the team that supports him. Medvedev is a product of the political system Putin created and is unlikely to have the clout to significantly change Russia's policies, either at home or abroad, even if he wishes to do so. Putin's continued presence, in any case, will ensure the country largely stays its current course.
Mini-Putin
Under the plan for double leadership in which Medvedev will be president and Putin will be prime minister, the relationship between the two men will be vitally important. Observers characterize the relationship as very warm -- similar to that between two brothers or a father and son. They note that Putin, who is 14 years older than Medvedev, has two daughters but no son.
But while Medvedev has forged impressive alliances among the so-called liberals, he has always been "Putin's man" in their environment. Medvedev's closeness to Putin spurred Kremlin insiders to dub him an "adviser to the king," according to an article in "Sobesednik" in June 2003. Some media have noted that Medvedev is motivated by corporate solidarity with those who have similar organizational biographies, as opposed to any allegiance to abstract national interests.
However, the cordial Putin-Medvedev relationship may have a more prosaic explanation linked to the organization of which Putin was so long a part. According to the "official" history detailed in the book "In The First Person," Putin met Medvedev in 1991 when he was St. Petersburg deputy mayor and was given the authority to form his own team. Unnamed sources at the university law faculty recommended Medvedev, and Putin added the young student to his staff as a "legal expert." According to the local newspaper "Delovoi Peterburg," Putin included Medvedev on recommendation of Medvedev's faculty adviser, Mikhail Krotov, who also worked for Sobchak. But the question remains, what kind of legal expertise could a 24-year-old student provide to the 37-year-old active KGB officer who graduated from the same faculty? Putin remained in the KGB's Active Reserve at least until the August 1991 coup attempt.
Of course, we will likely never know for sure what kind of assistance Medvedev provided Putin. But some media, such as "Profil," have taken seriously speculation that the original connection between the two was based on Putin's KGB background. One of Medvedev's university classmates, Yelena Belorukova, recollects that fellow students believed Medvedev enjoyed special "advantages" compared to other students. At the same time, Medvedev always maintained his distance from "ordinary" students.
It is possible Putin actually met Medvedev earlier. From February 1990 to the summer of 1991, Putin -- fresh from his KGB assignment in Germany -- served as deputy rector of St. Petersburg State University in charge of working with foreign students. Medvedev, who was finishing his postgraduate dissertation, was at the university at the same time. Putin's job at the time was to monitor and recruit foreign students and specialists. In this job, he needed the assistance of "helpers" and "assets" from the ranks of local students and postgraduates. It was common practice for the KGB at the time to engage in collaboration with the best students -- "otlichniki" -- or Komsomol activists, such as Medvedev.
Medvedev demonstrated these qualities in 1991 when he managed some of the large money flows controlled by the city council's Foreign Trade Committee, then headed by Putin. According to sources cited by ivsnet.ru, Medvedev carried out Putin's instructions on money transactions, including those for the controversial construction projects of the ill-reputed construction firm 20th Trest and the Rossia bank, which belonged to Mikhail and Yury Kovalchuk. These brothers are close associates of Putin's and powerful forces within the Kremlin to this day.
Whatever the reason for Medvedev's loyalty to Putin, the usually suspicious Putin has expressed an unshakeable confidence in him. "Dima has never let me down," Putin reportedly once commented in the company of a tight circle of confidantes.
The Russian media has provided information about at least two situations in which Medvedev proved his reliability. In the first, Medvedev skillfully found a solution to a scandal in the early 1990s involving the illegal export of strategic metals, extricating both Putin and the city from a mess through legal maneuvering. A few years later, Medvedev devised a scheme whereby the city council was able to become a co-founder of commercial shareholding companies. At the time, Russian law banned municipal authorities from using assets, including land, as the start-up capital for new commercial enterprises. Medvedev helped circumvent the prohibition by suggesting using rent payments for the land, rather than the land itself.
Company Man
Medvedev's resourcefulness has extended to developing good relationships with key people in the important power centers of the Russian system. Medvedev has developed good relationships with members of the Kremlin's so-called liberal camp. Aleksandr Voloshin, who headed the presidential administration under President Boris Yeltsin, during the early Putin years referred to "Dima" as a "good, reliable fellow" and "an absolutely reasonable and decent person," according to the website posit.kz and "Argumenty i fakty."
Medvedev worked as a deputy for Voloshin until October 2003, when Putin replaced the latter with Medvedev. In November 2006, during a private visit to Washington, Voloshin met with senior members of the U.S. administration and reportedly actively "lobbied" for Medvedev as the next Russian president. Medvedev also has developed good relationships with other reputed "liberals," including Deputy Prime Minister and Finance Minister Aleksei Kudrin, EES head Chubais, Putin foreign-policy aide Sergei Prikhodko, Putin personal aide Igor Shuvalov, Economic Development and Trade Minister Elvira Nabiullina, her predecessor and Sberbank head German Gref, and St. Petersburg Governor Valentina Matviyenko.
Medvedev also reportedly enjoys cordial relations with oligarchs such as Alisher Usmanov, Oleg Deripaska, Roman Abramovich, and Aleksandr Abramov. These oligarchs, who are dubbed the "syreviki" because of the power they wield through the export of raw materials, have mostly been affiliated with the "liberals." Most of them were also members of former President Yeltsin's so-called Family. Among these four, Usmanov plays a special role. His financial group, Gazprominvestholding, which is wholly owned by Gazprom, controls Gazprom-Media. Usmanov was able to provide strong support to Medvedev -- especially during his unofficial competition for the succession with fellow First Deputy Prime Minister Sergei Ivanov -- through his control of Gazprom-Media and its national media assets.
In St. Petersburg, Medvedev reportedly has ties with businesspeople and parliamentarians, including the Federation Council Industrial Policy Committee Chairman Valentin Zavadnikov, Novatek gas company head Leonid Mikhelson, Ilim Group board Chairman Zakhar Smushkin, and the brothers Boris and Mikhail Zingarevich. All of these men serve on the board of trustees of the Moscow business school Skolkovo.
While Medvedev apparently has not yet formed the same strong ties with the various "siloviki" groups, he does have ties with some. They include Aleksandr Bortnikov, deputy director of Federal Security Service (FSB); Yevgeny Shkolov, head of Interior Ministry's Economic Security Department; Deputy Interior Minister Oleg Safonov; Igor Zavrazhnov, deputy director of the Federal Customs Service; Audit Chamber Chairman Sergei Stepashin; and Viktor Cherkesov, director of the Federal Antinarcotics Service. Cherkesov is an old acquaintance of Putin's from his days in St. Petersburg.
Happily Ever After?
Vyacheslav Nikonov, head of newly created pro-Kremlin organization Russian World, says it is clear that before Putin nominated Medvedev and before Medvedev asked Putin to assume the prime minister's office, "they agreed on the conditions of their partnership." He adds that during the eight years of his presidency, Putin has rarely misjudged the loyalty of his appointees, as Presidents Boris Yeltsin and Mikhail Gorbachev often did.
Certainly, Medvedev's loyalty is guaranteed for the foreseeable future because Medvedev will need Putin much more than Putin will need Medvedev. Without Putin, Medvedev would be unable to run the country in the short term. It also seems reasonable to conclude that at least during the first year, Putin will have much more power than Medvedev, since the entire presidential administration is filled with Putin appointees.
Furthermore, Putin will head the office of the prime minister, which manipulates all of the real mechanisms for operational control over the national economy and governmental coffers. Most of the mid-term national projects were already adopted in 2005-07, while a large portion of the state budget has been set through 2010.
Putin also has built-in political "trip wires" to limit even the hypothetical possibility that Medvedev could get out of control. If Medvedev, for example, decided to sack Putin, it would be extremely difficult to do so. According to the Russian Constitution, the president needs the approval of the Duma for any new prime minister, and it is very doubtful the Duma -- where the pro-Putin Unified Russia has an absolute majority -- would give its consent to anyone other than Putin.
While the constitution adopted under Yeltsin gave huge power to the office of the president, political institutions in Russia are not so strong that they retain the same features regardless of the personality of the officeholder. Under the constitution, a strong president can easily dismiss a prime minister, as Yeltsin did six times during his two terms. But power in Russia, in general, attaches to the personality, not the position. It is worth noting that one of the most powerful leaders in recent Russian history, Stalin, never actually headed the Soviet state and only served part of his career as the prime minister. Most of his time, his formal role was as head of the Communist Party. Some observers are predicting that Putin may also assume the chairmanship of Unified Russia.
But Medvedev's political dependence on Putin does not mean he will follow all of Putin's instructions. Vladimir Ryzhkov, a frequent critic of Kremlin policies and a former independent Duma deputy, said in an interview with "Moskovsky komsomolets" on January 22 that he believes "Medvedev will not be a complete puppet: in many preagreed areas, he will make thoughtful decisions." But Ryzhkov added: "I consider all talks about secret ambitions of the heir to the throne as nonsense. I cannot imagine that people who cooperated together for 17 years and who have a lot of common interests starting from the St. Petersburg period and finishing at Gazprom will suddenly behave as Mikhail Gorbachev and Boris Yeltsin once did. Regarding the question of what kind of relationship will this pair enjoy, I answer, 'A happy marriage.'"
Medvedev's New Team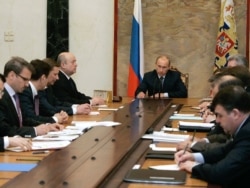 While Dmitry Medvedev's presidential campaign was made up of people whose primary loyalty is to outgoing President Vladimir Putin, there will certainly be turnover in key positions in the coming months, especially if Medvedev tries to build his own political power base.

This could include Medvedev's past associates in the Kremlin, fellow students at the law school at St. Petersburg State University, and colleagues from his tenure at Gazprom. Also likely to join Medvedev are holdovers from the Putin presidency, especially younger leaders such as Defense Minister Anatoly Serdyukov, Health and Social Development Minister Tatyana Golikova, and the head of the state nuclear energy monopoly, Sergei Kiriyenko.

See "The Future Medvedev Team"