Vladimir Putin formally stepped down after eight years as president, ostensibly to leave the running of the country to Medvedev, a loyal and longtime aide who sailed through the polls earlier this year with the firm backing of the president.
The heads of the Constitutional Court, the Central Election Commission, and the Russian Orthodox Church officiated at the event.
Medvedev, a first deputy prime minister and chairman of the board of Russian state energy giant Gazprom, succeeds his political mentor and close friend Putin, who is constitutionally barred from a third term as president.
Putin, who will to move to the prime minister's job, called for unity and appealed to all sides to support the new president in a speech before Medvedev took the oath of office. Barely glancing down to look at his notes, Putin praised the country's progress in the eight years since he took office and entreated Russians to support his successor.
Then, Medvedev was sworn in.
"I swear that in exercising the powers of the president of the Russian Federation I shall respect and protect human and civil rights and freedoms," he said, "observe and protect the constitution of the Russian Federation, protect the sovereignty and independence, security, and integrity of the state, and faithfully serve the people."
On the eve of the inauguration, Moscow police blocked opposition protesters from holding a demonstration, detaining protesters before the rally could begin on May 6. The opposition Other Russia coalition said 70 people had been detained.
Putin had thanked his administration at his final cabinet meeting as president on May 5, and talked of the tasks ahead. "I want to wish everyone success in their work for the good of Russia," Putin said. "A lot of intensive work lies ahead. I'm sure that all of you are ready for it and I'm sure we will achieve our goals. And certainly, I want to wish Dmitry Anatolyevich Medvedev success."
But how much power will Medvedev really wield?
Few in Russia see the handover as anything but cosmetic. Putin still enjoys enormous support among Russians, and it is widely thought that he will continue to run the country from the prime minister's office as head of the government.
"I think, in all honesty, it's not possible to talk of any real handover of power," says Yevgeny Volk, director of the Moscow office of the Washington-based Heritage Foundation. "All the structures of power that were formed under Putin will remain in place. Moreover, Putin has taken all measures to ensure that in his new position as prime minister he will retain much of the powers he previously held as president, and to make certain that his role has been strengthened in relation to that of the president."
Power To The PM
Putin planned the power transfer very carefully, says Volk. Last week Putin signed a decree that shifts the supervision of regional governors to the government, rather than the presidential administration. He also approved a law that makes local government officials directly accountable to regional governors.
"Everything is being done in the government's favor to wield authority and power," Volk argues. "Putin has already put into place a raft of changes -- transferring people to the government who used to take care of his image-making, PR people, speechwriters. And I think this process of the steady flow of those influential people who worked under Putin in the presidential administration to the government, it is set to continue."
For Aleksei Malashenko, a political expert at the Carnegie Moscow Center, the reason for this is simple: Putin intends to return to power.
"I think that the best way, the best method for Putin, is to tie Medvedev's hands," Malashenko says. "Of course, neither one will ever admit this, but that is how it is at the moment. And if we follow this logic, we can admit that Medvedev maybe will not stay president for four years. Maybe he will be replaced by Putin within a short period of time."
Top Dog
With Putin's formal support, Medvedev won an easy victory in a presidential election in March, scooping up over 70 percent of the vote. Medvedev, who graduated from the same law faculty at St. Petersburg State University as Putin, has spent most of his career working for Putin. As a loyal and longtime friend, there are suspicions that he will be a puppet president while Putin continues to pull the strings, perhaps even standing aside early to allow Putin to return to the presidency.
But Malashenko counters that there is a danger that, in time, Medvedev -- a young leader, at 42 -- might not want to play that game.
"I think that [Putin] will perform two roles -- the role of prime minister, but also [of] president, the real president," Malashenko says. "But at the same time, I don't believe that Medvedev wants to keep the situation as it is now. Maybe he will dare to invite onto his team some new people, maybe moderate, more liberal [politicians] than [those on] Putin's team. That's quite possible."
Volk suggests, however, that any disagreements between the two men are likely to be resolved in Putin's favor.
"I don't exclude there being contradictions between the two men, particularly on the topic of inflation," Volk says. "If prices continue to rise -- and this is inevitable, in my view, in the current economic climate -- then I think Medvedev will be forced to find a scapegoat. And he may not be supported in this by the prime minister and the government."
Medvedev is expected to name his new administration by the end of this week.
Medvedev's New Team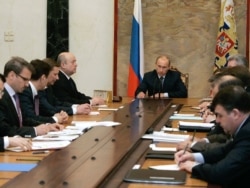 While Dmitry Medvedev's presidential campaign was made up of people whose primary loyalty is to outgoing President Vladimir Putin, there will certainly be turnover in key positions in the coming months, especially if Medvedev tries to build his own political power base.

This could include Medvedev's past associates in the Kremlin, fellow students at the law school at St. Petersburg State University, and colleagues from his tenure at Gazprom. Also likely to join Medvedev are holdovers from the Putin presidency, especially younger leaders such as Defense Minister Anatoly Serdyukov, Health and Social Development Minister Tatyana Golikova, and the head of the state nuclear energy monopoly, Sergei Kiriyenko.

See "The Future Medvedev Team"