Prosecutors have charged three men with Politkovskaya's murder.
Politkovskaya was shot dead in her Moscow apartment block on October 7, 2006. Her killing has had profound resonance in the West, but caused little reaction in Russia.
In a June 18 statement announcing the completion of the inquiry, the investigative committee of the Prosecutor-General's Office named the men accused of her assassination as Sergei Khadzhikurbanov, Dzhabrail Makhmudov, and Ibragim Makhmudov.
Khadzhikurbanov is a former police officer. The two others are brothers and come from Chechnya.
But Sergei Sokolov, the deputy head of the "Novaya gazeta" investigative newspaper where Politkovskaya worked at the time of her death, said that the overall investigation into her killing is far from over.
"I am calling on all our colleagues to be attentive to what is going on," Sokolov said. "If you look carefully at the investigative committee's official announcement, it says they have completed the investigation into the specific people who have been named [in connection with the case]. This means that the Politkovskaya investigation is not finished, [but that it has only] completed one part."
Vladimir Markin, a spokesman for the investigative committee, said the suspected gunman remains at large and is still under investigation.
The current investigation appeared limited to those suspects involved in the execution of Politkovskaya's murder. Sokolov told RFE/RL's Russian Service that a separate inquiry has been launched to uncover those who are believed to have commissioned it.
"It makes sense to note that Mr. Markin has said that the assassins' case is being handled separately," he said. "Another case will look at individuals who are yet to be determined. These include those who ordered the assassination. The investigative committee and 'Novaya gazeta' are continuing to search for these people. Therefore, what has happened so far is just the first stage."
Another man, former Federal Security Service (FSB) officer Pavel Ryaguzov, has been charged with abuse of power and extortion in connection with the probe. The committee said it had dropped charges against several other suspects in the case, including the former administrator of a district in Chechnya, Shamil Burayev.
Burayev, who was released after nine months in detention, maintains his innocence. He also casts doubts over the Makhmudov brothers' involvement in Politkovskaya's murder
"I know their father, he's my age, but they are still boys," Burayev said. "I don't believe they are guilty, they are simply too young. I don't think they did it."
Politkovskaya was well-known abroad for her staunch criticism of human rights abuses in Chechnya, where Russian forces have been fighting separatist rebels since 1994.
Her colleagues believe her slaying was connected to her articles and books and have accused authorities of undermining the investigation into her murder by releasing details of the case before it goes to court.
RFE/RL's Russian and North Caucasus services contributed to this report
RFE/RL Remembers Anna Politkovskaya
RFE/RL Remembers Anna Politkovskaya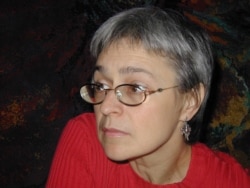 A COURAGEOUS JOURNALIST REMEMBERED

On October 7, 2006, Anna Politkovskaya, who had reported on human-rights violations in Chechnya and the North Caucasus and was a strong critic of the Kremlin, was shot dead in her Moscow apartment block, robbing Russia of one of its bravest investigative journalists.

On the first anniversary of her death, RFE/RL paid tribute to Politkovskaya and looked at her legacy and the media environment in Russia today at the conference "Russia One Year After the Murder of Anna Politkovskaya."

On our special webpage are a multimedia tribute to Politkovskaya presented at the conference, as well as video of the conference's speakers and panel discussions. See RFE/RL Remembers Anna Politkovskaya