(RFE/RL) -- No one knows how many people have been arrested in Iran since protests against disputed presidential election results began two weeks ago, but it is becoming clear that security forces are engaged in one of the biggest crackdowns the Islamic republic has seen since the early days of the 1979 Revolution.
By official count, the number of those arrested is around 450.
But according to many sources inside Iran, the total tally of sudden arrests and disappearances is in the thousands.
The arrests are no longer merely targeting people who demonstrate on the streets.
Seventy university professors were detained and their mobile phones and laptops confiscated after they met on June 24 with opposition leader Mir Hossein Musavi.
Later, all but four were released. Among those remaining in detention is Musavi's campaign manager, Ghorban Behzedian Nejad.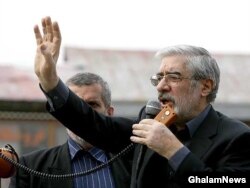 Mir Hossein Musavi has not been seen in public since June 20.
Many other leading reformist figures are also in detention. They include people who were top officials of the Islamic republic prior to the election of President Mahmud Ahmadinejad to his first term in 2005.
Among the well-known names are Behzad Nabavi, a former deputy speaker of parliament, and Abdullah Ramezanzdeh, who was the spokesman of Muhammad Khatami when he was president.

'Martial Law' On The Streets
Musavi himself has not been seen since June 20, when he was reportedly glimpsed briefly at an opposition rally in Tehran. However, his website continues to insist on the public's right to challenge the results of the June 12 presidential election.
Musavi's wife, an influential former university dean, on June 24 posted a message on a website associated with her husband criticizing the government for acting "as if martial law has been imposed on the streets."
The sense of martial law is heightened by the government's strict censorship of the press.
Reza Moini, a Paris-based spokesman for Amnesty International on media freedom, told RFE/RL's Radio Farda on June 24 that the government has imposed a "military" level of censorship while arresting scores of journalists.
"Up to now, there are 36 journalists who are in jail, and we emphasize that their situation is really critical," Moini says. "There is no information given by the officials to their families. The lawyers do not have any permission to visit them. The families who go to prisons do not get any sensible answers and, according to our information, they are under physical and mental duress in Unit 209 of Evin prison."
The crackdown is not limited to the capital. Other cities reporting stepped up security in the streets and arrests include Isfahan, Shiraz, Tabriz, and several cities in the Kurdish area of northwestern Iran.
Overwhelmed By Police
The overwhelming security measures were challenged briefly on June 24 by protesters who gathered outside the parliament building in Tehran.
The protesters reportedly assembled amid reports that Musavi would appear at the parliament. However, he did not show up, and the protesters were overwhelmed by thousands of riot police.
Unidentified Iranian detainees shown confessing on Iranian state television on June 23.
Amid the sweeping security measures, the government has launched a media campaign in which the protests and associated events are interpreted as a security threat to the country.
The Interior Ministry has charged the CIA and the armed resistance group the People's Mujahedin of Iran with funding the protests.
State television has also shown detained protesters saying that they were incited to riot by Voice of America and BBC broadcasts.
The state information offensive also has given its own interpretation of the shooting of Neda Agha Soltan, the 26-year old woman whose death -- captured on amateur video -- has become a symbol of the reformist movement.
State media says she was shot by agents of the armed resistance in a set-up to discredit security forces.
However, the government simultaneously has issued a ban on memorials for Soltan and reportedly limited her family's funeral service for her to immediate relatives only and to just 30 minutes in length.
"The Guardian" newspaper now reports that the Iranian authorities have also ordered her family out of their Tehran home.
Musavi supporters say they will release thousands of balloons on June 26 printed with the message: "Neda, you will always remain in our hearts."
Public Mourning Disallowed
The government equally has blocked any public mourning for those killed in the protests. By official count, the number killed is 17, with state television saying half of those are members of Iran's paramilitary Basij.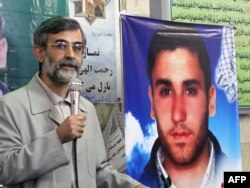 Government spokesman Gholamhussein Elham speaks at a June 23 memorial service for a Basij militia member allegedly killed during clashes with protesters.
The issue of public mourning is now a testing point for the ability of opposition leaders to make any further appearances on the street with their supporters, as they did in the early days of the rallies.
Opposition candidate Mehdi Karrubi, who came third in Iran's disputed presidential race, canceled a mourning ceremony planned for today.
Karroubi's camp said the government had refused to provide a location for the ceremony or an exemption to the ban on all protest gatherings.
Meanwhile, the only conservative candidate in the race to challenge Ahmadinejad said on June 24 that he has withdrawn his complaint of election fraud.
Mohsen Rezai, a former head of the Revolutionary Guards, said withdrawing his charge was in the best interest of the country.
Rezai had previously joined Musavi, a former prime minister, and Karrubi, a former speaker of parliament, in filing some 600 complaints of irregularities in the vote count.
Iran's Supreme Leader Ayatollah Ali Khameni said on June 24 that the result of the June 12 election would not be changed. Authorities say the election was won in a landslide by Ahmadinejad.
Iran Election Special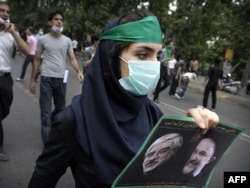 RFE/RL's Full Coverage
Following the disputed reelection of Iranian President Mahmud Ahmadinejad, supporters of Mir Hossein Musavi have taken to the streets to protest.
Click here
for news, blogs, and analysis of the presidential election and aftermath.
Iran Election Diary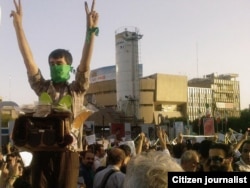 Disputed Presidential Vote
There have been protests and clashes with police on the streets of Tehran following the disputed reelection of Mahmud Ahmadinejad. RFE/RL collects videos, photos, and messages on social-networking sites coming out of Iran to attempt to get a picture of what is happening inside the country.
Click here