Kyrgyz troops are patrolling the streets of Osh, the southern city at the center of recent violence between ethnic Kyrgyz and Uzbeks that has left at least 187 dead and nearly 2,000 wounded.
Uzbeks, victims of most of the violence, have fled by the thousands to neighboring Uzbekistan, with more trying to get in.
Uzbek President Islam Karimov has urged UN Secretary-General Ban Ki-moon to get aid quickly to the displaced Uzbeks.
The UN's refugee agency says the first two aid flights have landed in the eastern Uzbek city of Andijon.
A senior U.S. official is visiting the region to assess the situation and consult with local officials. Assistant U.S. Secretary of State Robert Blake is holding talks in Uzbekistan on June 17 before heading to Kyrgyzstan.
Kyrgyzstan on June 16 began three days of mourning to commemorate the victims, who include ethnic Uzbeks and Kyrgyz as well as other nationalities in the region.
Influx Of Refugees
At least 45,000 ethnic Uzbek refugees along with their children have entered neighboring Uzbekistan, which is struggling to handle the influx. Thousands more inhabitants of Kyrgyzstan's southern Osh and Jalal-Abad provinces are internally displaced, camping near the Kyrgyz side of the border or staying with their relatives in nearby villages.
The refugees have been placed in makeshift camps in Uzbekistan's Andijon border province.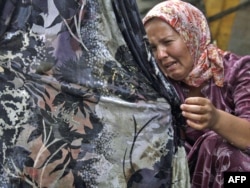 Nilifar, 28, cries over the blood-stained clothing of her sister Mukharam Simayeva, 25, who was killed by a sniper in Jalal-Abad on June 16.
The UN's High Commission for Refugees (UNHCR) said that the crisis in Kyrgyzstan could soon become a "catastrophe" if the international community does not swiftly intervene.
Antonio Guterres was speaking on German radio during a visit to Berlin. He said, "The country's neighbors and the international community must do everything in their power to help the interim Kyrgyz government restore peace and stability."
Talking to a Reuters correspondent through a barbed-wire fence, ethnic Uzbek Gulchekhra Emirova described the plight of the refugees in the Yorkishlok camp.
"People are suffering from dysentery, people have fever, everybody is sick," Emirova said. "Some old people had veins bursting or suffered a heart attack. There is not enough medicine."
UN humanitarian chief John Holmes said it was "vital that the border with Uzbekistan remains open." Uzbekistan, however, reportedly closed its border earlier this week citing its inability to cope with large numbers of refugees.
Aid Arrives
A plane carrying the first international aid for the refugees, meanwhile, reportedly arrived on June 16 in Andijon following pleas for humanitarian assistance by Uzbek authorities.
A plane carrying tents from the UN refugee agency (UNHCR) arrived in the eastern Uzbek city of Andijon. UN officials said a total of six planeloads of emergency relief would be sent by the end of the week.
Russian media reported that three cargo jets from the Russian Emergencies Ministry carrying tents and blankets arrived in Bishkek. Russia had earlier turned down the interim government's request for military aid, issued when the unrest climaxed in Osh over the weekend.
But residents of Jalal-Abad and Osh -- the center of the ongoing conflict -- are struggling with a shortage of food as most of bazaars and shops have been looted, set alight, or closed since the violence erupted.
The European Union has pledged 5 million euros in aid.
"The allocated funding will be used to provide emergency medical support, food, water, shelter, nonfood items, protection, and social assistance, and other relief to the victims of the catastrophe," said European Commission spokesman Ferran Tarradellas.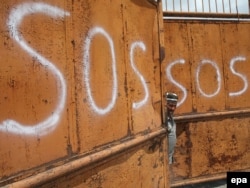 An ethnic Uzbek man in Nariman, near Osh, on June 15
U.S. Secretary of State Hillary Clinton called interim Kyrgyz leader Roza Otunbaeva to offer her condolences on the dead and wounded and to discuss how the United States can help.
The United States has allocated $10.3 million for humanitarian aid. Of that amount, U.S. State Department spokesman P.J. Crowley said more than $6.5 million is for immediate use.
"The United States has now committed over $6.5 million to provide immediate humanitarian response and stabilization assistance," he said. "This additional tranche of money will be provided through USAID. We continue to monitor both Kyrgyzstan's aid requirements, the status of its refugees, and will provide additional assistance as necessary."
RFE/RL's Tajik Service reported that the Tajik government has sent an aid caravan with cooking supplies and fuel to Jalal-Abad. Tajikistan has also decided to reopen an old transit road from Kyrgyzstan to Uzbekistan via the Tajik district of Konibodom to help refugees fleeing the violence.
RFE/RL correspondent in Osh, Alisher Toksonbaev, reported hearing sporadic gunfire on June 16 in some parts of the city, including near Cheryomushki and Aravan.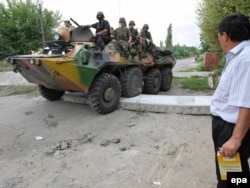 A man watches soldiers on an armored personel carrier as they arrive to check houses in the Uzbek district of Osh on June 16.
"Because of the ongoing gunfire, I can't get to my office in Aravan area, near the city center," Toksonbaev said.
He added that people were complaining that the authorities had not yet restored order, and that it was impossible to reach local officials by phone.
Government Assurances
According to Toksonbaev, the local authorities "have promised there won't be looting anymore in the city and that vehicles without official registration numbers would not be moving around during the night." But unmarked vehicles are still moving freely and the looting hasn't stopped, he said.
Ismail Isakov, Kyrgyzstan's interim defense minister who is in the area, told RFE/RL's Kyrgyz Service that there was no need for foreign peacekeeping troops and that the interim government is capable of restoring peace in the south.
In the Kyrgyz capital, Bishkek, police chief Zarylbek Rysaliev said 111 people have been detained in the south of the country for allegedly stirring up ethnic tensions.
Rysaliev is quoted as saying, "The population is being bribed by third parties, but the people know who is organizing all of this and where the wind is blowing from."
The interim government has blamed supporters of former President Kurmanbek Bakiev for fueling and financing the violence in southern provinces, where support for Bakiev has been strongest, as he hails from the region.
A popular uprising ousted Bakiev in April.
written by Farangis Najibullah, based on material by RFE/RL's Kyrgyz and Tajik Services and agency reports