Afghan President Hamid Karzai's campaign team has claimed victory in the first round of the country's presidential election.
Karzai's campaign chief, Deen Mohammad, told Reuters that Karzai had secured the outright majority needed to avoid a run-off in October.
"Initial results show that the president has got a majority," Mohammad said, although he said it was the duty of the election commission to announce the official results. "We will not got to a second round. We have got a majority."
However, according to the BBC, a spokesman for Karzai's chief rival, former Foreign Minister Abdullah Abdullah, had also claimed victory.
"I'm ahead. Initial results results from the provinces show that I have more than 50 percent of the vote," Abdullah told Reuters.
Election officials have said that no confirmed results have been released.
Despite candidates' calls for Afghans to defy the Taliban's warnings of violence and come out to vote in the presidential and provincial-council elections on August, the effort appears to have been only partially successful.
As the vote count began after polls closed at 5 p.m. local time -- an hour later than planned due to a last-minute extension -- reports from across the country indicate that voting went well in most of the country.
However, Taliban attacks and threats deterred many in the southern and southeastern Pashtun-populated regions from going to polling stations.
Karzai would have to win a 50-percent-plus-one-vote majority to win a first-round victory and avoid a potentially risky runoff against the second-place finisher.
Afghan women wait for a security check at a polling station in Herat.
Preliminary results of the vote, in which Afghans also determined 420 provincial-council seats in 34 provinces, will not be available until early next week.

Taliban Attempts To Mar Vote
High turnout is seen as a key benchmark for the legitimacy of the election, which was marred by a number of violent incidents as the Taliban tried to make good on threats to disrupt the vote.
Before the vote, the Afghan government had imposed a ban on foreign and domestic media reporting on election-day violence. But throughout the day, reports emerged of dozens of civilians, soldiers, and Taliban insurgents killed in rockets attacks, gun battles, and bomb blasts across the country.
Twenty-six civilians and security-force personnel were killed as a result of election-day attacks, according to Afghan security officials, who also claimed to have prevented dozens of attacks, including potential suicide bombings of polling stations.
Most of the attacks that were recorded concentrated in the capital Kabul and the insurgency-plagued southern Pashtun regions as voting began.
According to Dawa Khan Meenapal, RFE/RL's Radio Free Afghanistan correspondent in Kandahar, the insurgents fired rockets into Kandahar city and launched attacks in other neighboring provinces.
He said that people voted heavily in Spin Boldak district, but that overall turnout was lower compared to past elections, as Taliban threats apparently persuaded many potential voters to stay away.
"Contrary to expectations, the process started very slowly this morning," Meenapal reported. "Voting gathered pace during the course of the day. Women's participation was very little. Compared to past elections, this election lacked interest and excitement."
It was the same story in neighboring Helmand Province, where alleged Taliban insurgents fired rockets on the provincial capital, Lashkargah, as people waited to vote.

President Hamid Karzai and challenger Abdullah Abdullah vote in Kabul:
"For a few hours the number of people surged [at polling stations] in Lashkargah," Mohammad Aliyas Daee, a Radio Free Afghanistan correspondent in Helmand, reported an hour before voting stopped.
"But now most of the polling stations are empty or only a few voters can be seen. The overall participation of women was negligible."
Growing Enthusiasm
After a slow morning start, there were signs that Afghan voters, including increasing numbers of women, were coming out in force in many areas of the country.
Reports from across the relatively stable northern, northeastern central, and western provinces indicate that long lines of voters could be seen outside polling stations. In the eastern province of Nangarhar, people were reportedly turning out to vote in large numbers.
"I sense the election situation to be good," said Sayed Aziz Zaheer, a male voter in Nangarhar.
"I believe that men and women will take part in this elections in the numbers that were expected. Only negative reports in the media might deter people. Otherwise, I believe the situation will be fine."
A middle-aged woman in western Herat Province, Hameeda Shahidi, echoed the views of many Afghanis who took pride in participating in the vote to choose the next leader of their country.
"Since the voting began, everyone, including men and women, came to the ballot boxes with great interest so the people could choose a sympathetic leader for our country in a fair and transparent election. And this is the right of all the people of Afghanistan," Shahidi said.
Glitches reported in early voting ran from the unavailability of voting supplies -- such as indelible ink, stationary, and ballot-punching equipment -- to refusals by polling staff to serve in remote, insurgency-plagued villages.

Security Concerns
Some 300,000 Afghan and international troops are providing security for the process, but there will be no voting in nine Taliban-controlled districts.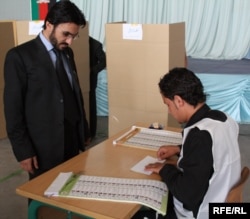 An Afghan man receive election ballots in Kabul.
The Independent Election Commission said that approximately 95 percent of planned polling stations, a total of 6,196, were open on election day.
Ichal Supriadi, an election-observer mission supervisor for the Asian Network for Free Elections, told Radio Free Afghanistan that the mission was "receiving a lot of calls and reports from our ground observers about plenty of people being discouraged from coming out and exercising their [right to] vote."
He said security fears also grounded many international observers, but warned that in judging the Afghan elections, people must keep in mind that it is still a war zone.
"The Independent Election Commission tries to make the best effort to try to accommodate and try to administer the election as well as it possibly can, but again, the situation and the threats from the antigovernment coalition, or the group they call extremists, or the Taliban, are disrupting the ongoing election process," Supriadi said.
Afghans now eagerly await the first results of the vote count, which is expected to last until September 2. Preliminary official results will be issued on September 3, with the final results declared on September 17. A runoff, if required, would be held within two weeks after the official results are announced.
For many Afghans, their immediate fears now turn to potential controversy over the results and the potential for resulting instability.
RFE/RL's Radio Free Afghanistan contributed to this report