The Russian human rights group Memorial is halting work at its office in Chechnya after one of its activists, Natalya Estemirova, was kidnapped and murdered on July 15. RFE/RL's Tajik Service correspondent Khiromon Bakoeva spoke with Memorial executive committee member Alexander Cherkasov, who said the office was being closed because of concern for the staff's safety. RFE/RL: What is Memorial's next step in Chechnya?
Cherkasov:
We will suspend work at our offices in Chechnya and decide on how to operate there in the future.
The information we get about human rights violations and crimes committed by local authorities and local law enforcement bodies is disturbing. In her last reports, Natalya [Estemirova] gave information about how they burn down the houses of people thought to be relatives of militants or how they carry out public executions -- unprecedented in the past 10 years in Chechnya -- and other crimes.
It is horrifying. But a lack of information from the region would be even more horrifying.
We are thinking about what to do in the future, how to help people in Chechnya, how to follow criminal cases that we helped to bring to court, and how to continue our work in compiling a list of missing people. At the moment, our work -- monitoring and documenting crimes that take place there -- happens to be gravely dangerous.
RFE/RL: Memorial has accused Chechen President Ramzan Kadyrov of being involved in Estemirova's killing. This is a very serious allegation, and Kadyrov has threatened to take Memorial to court. Do you have any evidence to support your allegations if he indeed takes you to the court?Cherkasov:
Certainly, we are ready to defend ourselves. We can recall what Ramzan has said himself -- that his men 'have killed people, but they have only killed bad people.' He has revealed enough.
RFE/RL: Russian President Dmitry Medvedev has strongly condemned Estemirova's killing and acknowledged that human rights activists' work in Russia has always been quite dangerous. Do you believe that under Medvedev's administration, the authorities will make a genuine effort to bring Estemirova's killers to justice?Cherkasov:
It does not depend on [President Medvedev]. Everything depends on those who work on the ground. I don't believe the case will be investigated immediately, especially after Ramzan Kadyrov has said he would personally oversee the procedure.
I am very concerned that innocent people will be found guilty and forced to 'confess' their crime. It is a routine practice in these regions. Natasha Estemirova has reported about such cases many times.
Murderers have to be brought to justice, but new crimes should not be committed for the sake of proving that something is being done to find Estemirova's killers.
A String Of Silenced Voices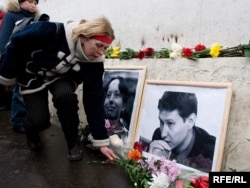 A String Of Silenced Voices
Rights activist Natalya Estemirova's death on June 15 was not an isolated act of violence. It was the latest in a series of assaults and murders of human rights campaigners and others who have denounced abuses in Chechnya and the surrounding republics.
More