MINSK -- Two critics of authoritarian Belarusian leader Alyaksandr Lukashenka jailed in a postelection crackdown have been released and placed under house arrest.
The release of former presidential candidate Uladzimer Nyaklyaeu and journalist Iryna Khalip, both detained after massive street rallies against Lukashenka's December 19 reelection, was widely seen as a conciliatory -- and unsuccessful -- gesture aimed at staving off Western sanctions.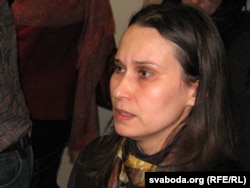 Volha Nyaklyaeva
Lukashenka, however, introduced an unusual condition for the dissidents' transfer from jail: the officers from the feared KGB security services monitoring them would be posted inside, rather than outside, their homes.
Nyaklyaeu's wife, Volha Nyaklyaeva, says it's not an easy cohabitation.
"They are in the adjacent room; the door is open," she told RFE/RL by telephone from her home in Minsk. "The condition for his release under house arrest was the presence of KGB officers at home. He had to sign a statement saying that he is not opposed to this."
Nyaklyaeu was freed from jail on January 29 along with Khalip. Like several other prominent opposition figures, both have been charged with instigating mass disorder -- a charge punishable by up to 15 years in prison.
'Doctor's Can't Visit Him'
Under the terms of their house arrest, the KGB officers stationed in Nyaklyaeu's and Khalip's apartments ensure that they don't leave the house, speak on the telephone, receive guests, listen to the radio, or use computers.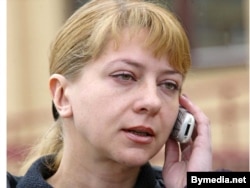 Iryna Khalip
They are also barred access to medical care -- another highly unusual practice for house arrest.
"Doctors can't visit him," Nyaklyaeva says. "We've been told that I can talk to a doctor [and] describe his condition. The doctor will then prescribe medicine for him and explain how to take it, and I will control the process."
The 64-year-old Nyaklyaeu, who suffers from hypertonia, has been in poor health since being severely beaten during the December 19 demonstration. Men in plainclothes snatched him from his hospital bed the following day and took him to jail.
Despite her deep resentment toward Belarusian authorities, his wife has chosen to not rebel against the security officers now living under her roof.
Nyaklyaeva, who says she occasionally offers them tea and snacks, has even been chided for her hospitality by some of her husband's supporters.
"The last thing I want is confrontation in our home. I've lived in a state of confrontation for a month and a half, and that's enough for me," she says. "I want my husband to live in a quiet, normal atmosphere at home, without any stress."
'Just Doing Their Jobs'
The father of journalist Iryna Khalip, too, has opted for a nonconfrontational approach. The guards sent to enforce her house arrest, he says, are "just doing their jobs."
Unlike Nyaklyaeva, who keeps her husband abreast of the latest developments in Belarus, Uladzimer Khalip says he and his daughter avoid any political conversation.
"I'm allowed to meet with her and speak to her. We talk only about mundane things. We don't broach any other topic in order not to complicate the situation," Khalip says.
Khalip's husband, Andrey Sannikau, another opposition leader who ran against Lukashenka on December 19, remains in jail for his role in the postelection protests.
RFE/RL's Belarus Service contributed to this report