EU Consensus On Russia Sanctions Stalled By Greek Objections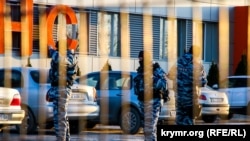 BRUSSELS -- EU diplomats say ambassadors of the 28-nation bloc have failed to reach consensus on new sanctions targeting Russia for its role in the Ukraine crisis and the extension of current sanctions due to objections from Greece.
EU ambassadors met on January 28 in Brussels to discuss fresh punitive measures against scores of Russian officials, companies, and Moscow-backed separatists and the extension of the current sanctions until December.
But EU diplomats told RFE/RL that they were unable to reach an agreement because Greek officials opposed the text of the proposed conclusions.
Consensus among all EU member states is necessary to approve new sanctions or to extend the current ones.
The EU had prepared a draft statement calling for the current sanctions imposed following Moscow's annexation of Ukraine's Crimean Peninsula to be extended until December and for a list of new sanctions to be approved.
In the document, which was leaked ahead of an extraordinary meeting of EU foreign ministers on January 29, the EU says that "in view of the worsening situation [in eastern Ukraine], the [EU] council agrees" to extend the sanctions until December.
The document also calls on EU officials to present a proposal on "additional listings" to the list of sanctions within one week.
It adds that the extension and any new listings to the sanctions list are designed to ensure "a swift and comprehensive implementation of the Minsk agreements, which were signed by Ukrainian, Russian, and separatist officials in September and aimed at ending hostilities and leading to the withdrawal of heavy weaponry from the line of contact."
An earlier version of the draft document had said sanctions would be extended only until September.
The new Greek government's strong objections to the sanctions leave the plans for new sanctions and an extension of the current ones in doubt.
Greek Prime Minister Alexis Tsipras's office this week also complained that it was not consulted about EU leaders' January 27 statement calling for further "restrictive measures" against Russia.
And new Greek Energy Minister Panagiotis Lafazanis said Greece opposed sanctions against Russia.
EU leaders this week had asked their foreign ministers to consider fresh sanctions aimed at halting the bloodshed in eastern Ukraine, where more than 5,100 people have died since fighting broke out between pro-Russian separatists and government forces in April.
Several EU diplomats have told RFE/RL that these punitive measures will almost certainly include additions to the list of Russians, separatists, and companies already hit with visa bans and asset freezes in response to Moscow's role in the Ukraine crisis.
One EU official said the debate on new restrictive measures could focus on whether to sanction influential Russians, including senior officials and wealthy business people, or limit the blacklist additions to pro-Russian rebels.
EU leaders had expected to adopt the proposed new sanctions at a planned February 12 summit in Brussels.
Two EU diplomats also told RFE/RL that officials in Brussels are giving "serious consideration" to adding the self-styled "people's republics" of Donetsk and Luhansk to an EU list of terrorist organizations, though such a designation could be set aside in order to bring these separatist groups to the negotiating table.
The leaked draft statement of the January 29 meeting of the EU foreign ministers also condemned a January 26 raid by Russian authorities on the headquarters of ATR, the only television channel broadcasting in the Crimean Tatar language on the annexed Black Sea peninsula.
Activists, community leaders, and rights groups say Crimean Tatars have faced discrimination, pressure, and abuse for their opposition to Russia's illegal annexation of Crimea from Ukraine last March.
The leaked document calls the raid "the most recent act of persecution and intimidation of the Crimean Tatar community and another attempt to limit freedom of expression and media on the peninsula."
It also urges the Ukrainian government to "accelerate the implementation of political and economic reforms" and "expresses grave concern about the deteriorating humanitarian situation" in the conflict-torn areas of eastern Ukraine.
With reporting by RFE/RL's Brussels correspondent Rikard Jozwiak, RFE/RL's Ukrainian Service, and Reuters