FBI, Congress To Probe Possible Russian Link To DNC E-Mail Hack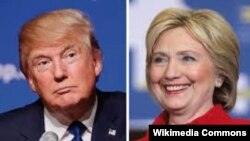 The top Democrat on the U.S. House Intelligence Committee says the committee has been briefed on a reported hack into the Democratic National Committee's e-mail system and would seek information about the origin of the attack -- including a possible connection to Russia or other countries.
Representative Adam Schiff (Democrat-California) said on July 25 that "if the hack is linked to Russian actors, it would not be the first time cyber intrusions linked to the Kremlin and its supporters have sought to influence the political process in other countries."
Schiff's remarks came shortly after the FBI on July 25 confirmed that it is investigating the hack.
Robby Mook, the campaign manager for presumptive Democratic presidential nominee Hillary Clinton, said he thinks "Russian state actors" may have been involved in the leak of party e-mails in order to help her Republican rival, Donald Trump, who has said he would seek to improve ties with Moscow if elected.
The director of National Intelligence, James Clapper, has said that U.S. officials have seen indications of foreign hackers spying on U.S. presidential candidates and that they expect more cyberthreats against the campaigns.
Russian presidential spokesman Dmitry Peskov would not comment on allegations that Russia was behind the leaked e-mails in a bid to support the Trump campaign.
Instead, Peskov pointed to statements from Trump's campaign that dismissed the allegations.
But Clinton's campaign on July 25 stood firmly behind their claims of Russian involvement.
Mook said he does not "think it's coincidental" that the e-mails were released "on the eve" of the Democratic National Convention that begins in Philadelphia on July 25.
He told CNN late on July 24 that there is "evidence Russian state actors broke into the DNC, stole those e-mails, and there are experts saying they are releasing these e-mails for the purpose of helping Donald Trump."
The Virginia-based cybersecurity firm CrowdStrike said last month that the DNC asked it to investigate a suspected penetration of its systems that began as early as last summer.
Crowdstrike said it found evidence that two hacking groups tied to the Russian state were involved.
The Trump campaign rejected Mook's suggestion of Russian involvement on behalf of the Republican candidate, who has said he would seek rapprochement with the Kremlin if elected to the White House.
Ties between the two countries have plunged to Cold War-level lows following Moscow's forcible annexation of Ukraine's Crimea territory in 2014 and its backing for armed separatists in eastern Ukraine.
In a statement to The Washington Post, Trump's campaign called Mook's assertion "a joke."
"This shows that Hillary Clinton will do and say anything to win the election and hold onto power in the rigged system," Jason Miller, a senior communications adviser for Trump, told the newspaper in the statement.
The trove of more than 19,000 hacked e-mails published by Wikileaks show Democratic National Committee (DNC) staffers favoring Clinton over rival Bernie Sanders during the primaries, angering more progressive factions of the party.
Democratic National Committee Chairwoman Debbie Wasserman Schultz announced later on July 24 she was resigning following the revelation the DNC had not given the candidates a level playing field.
One leaked e-mail showed a committee official deliberating about whether Sanders may be an atheist and whether this could be leveraged against him.
Wasserman Schultz said she would step down as DNC chairwoman "at the end of this convention."
With reporting by CNN, AP, AFP, Reuters, Time.com, and The Washington Post