IAAF Maintains Ban On Russia In International Track And Field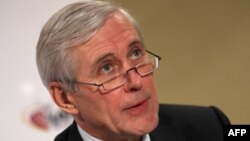 World athletics' governing body has maintained Russia's ban from international track and field competitions, saying the country has not done enough to tackle doping.
The International Association of Athletics Foundations (IAAF) made the announcement on November 26, ahead of an International Olympic Committee (IOC) meeting in early December over Russia's participation at the 2018 Winter Olympics in South Korea.
Russia was suspended in November 2015 after the World Anti-Doping Agency found evidence of state-sponsored doping.
However, the IAAF has allowed some Russians to compete as so-called neutral athletes after reviews of their drug-testing history.
"The conditions established by the IAAF Council for reinstatement of [the Russian national athletics federation, RusAF] to IAAF membership have not yet been met in full," the IAAF said in a statement following a two-day IAAF Council meeting in Monaco.
"Instead several material conditions remain outstanding, either in whole or in part," it added.
As a result, the statement said, the IAAF Council unanimously accepted a recommendation from its Russia task force not to reinstate RusAF "until all of the reinstatement conditions the Council has set have been met in full."
Rune Andersen, the head of the IAAF task force examining the issue, told a press conference that "several key [milestones] remain outstanding."
The Norwegian said that the reinstatement of the Russian anti-doping agency, RUSADA, as a "fully independent and code-compliant" body by the World Anti-Doping Agency (WADA) was a key condition.
WADA declared on November 16 that RUSADA, which was also suspended in 2015, is still not complying with anti-doping mandates -- a decision which Moscow called "unfair."
"The broader question is whether they will be able to operate in a system which we can trust," Andersen said.
RusAF President Dmitry Shlyakhtin said that his organization "regrets" the IAAF's decision.
"We will continue to work to do our best to see to it that Russian track and field athletics is associated only with clean and honest athletes," Shlyakhtin told the TASS news agency. "Naturally, we are waiting for information about further steps we must take to have a clear understanding of a road map we are to be guided in the immediate future."
'Institutional Conspiracy'
An independent report commissioned by WADA said in December 2016 that more than 1,000 Russian athletes, including Olympic medalists, benefited from an institutional conspiracy to conceal positive doping tests.
The McLaren report said more than 30 sports were involved in the systematic cover-up, which it said dates back until at least 2011 and continued after the 2014 Winter Olympics in Sochi.
WADA recommended banning all Russian athletes from competing at the 2016 Olympics in Rio, but the IOC ruled that individual sporting federations should decide.
The IAAF was the only sporting federation to enforce a blanket ban on Russian athletes.
Russian officials have denied the existence of a state-sponsored doping program.
In an interview published on November 23, Russian Deputy Prime Minister Vitaly Mutko said his country was the victim of an attempted "brainwashing."
Mutko also said that Russia is not to blame for the doping scandal that tarnished the Sochi Olympics, insisting that WADA and the IOC failed in their "responsibilities" to keep the Olympics clean.
The IOC has stripped Russia of nine medals so far, including four golds, from the 2014 Olympics following doping violations.
By stripping Russia of the medals, the country fell from first place to third on the gold medals table for the Sochi games.
In terms of total medals from 2014, Russia fell to the fourth place.
With reporting by AP, AFP, Reuters, TASS, and the BBC