Forces loyal to Libyan leader Muammar Qaddafi have used fierce barrages of tank and artillery fire to send rebels seeking his ouster into a panicked retreat from a strategic oil port.

The counteroffensive in Ras Lanouf reversed the opposition's advance toward the capital of Tripoli and has threatened its positions in the east.

Reports from the scene described hundreds of rebels in cars and trucks mounted with machine guns speeding eastward in a seemingly disorganized flight, as intense rocket and shell fire pounded a hospital, mosque, and other buildings in the oil complex.

The routing of rebel forces came on the same day as Jakob Kellenberger, president of the International Committee of the Red Cross, said in Geneva that Libya is now engaged in a "civil war" and that a "further intensification of the fighting" is expected.

"My understanding is we have now a non-international armed conflict, or what you would call a civil war," he said.

Diplomatic Progress

The counteroffensive was a major setback on a day when the opposition won a number of diplomatic victories from the international community, which has been weighing how to respond to the ongoing violence without resorting to military intervention.

In the most significant development, opposition envoys from Libya's eastern town of Benghazi persuaded French President Nicolas Sarkozy to obtain French recognition of their so-called "National Council" as the legitimate representative of the Libyan people.

Sarkozy's office said France plans to send an ambassador to opposition-held Benghazi and also to receive an envoy from Libya's opposition as an ambassador in Paris.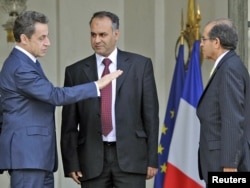 French President Nicolas Sarkozy (left) meets with Libyan National Council emissaries Mahmud Jebril (right) and Ali Essawi in Paris,
In reaction, Libya's Deputy Foreign Minister Khaled Kaim said his country may sever diplomatic relations with France and other Western powers. He called France's recognition of the opposition group "illegal" and said, "If the French government goes ahead with this we will see no other possibility than to break diplomatic relations with France. ... All options will be considered."

Meanwhile, U.S. Secretary of State Hillary Clinton told lawmakers in Congress that she will meet with Libyan opposition leaders during a Middle East trip next week.

Clinton said U.S. officials are "reaching out to the opposition inside and outside of Libya," and said she will meet personally with opposition figures during her travels in Egypt and Tunisia.

In separate comments later at the State Department, Clinton said the United States is considering "every option imaginable" but suggested that the proposed no-fly zone may not be the best course of action.

France and Britain have been among those backing a United Nations Security Council resolution that would impose a no-fly zone. Other countries, including the United States, say a no-fly zone must be assured of broad international backing -- including support from regional leaders in North Africa and from Arab states.

Clinton pointed out that in Iraq, a no-fly zone "did not prevent Saddam Hussein from slaughtering people on the ground...[or] get him out of office" and in Kosovo, a no-fly zone did not drive Serbian leader Slobodan Milosevic out. What finally drove Milosevic from power, she said, was "troops on the ground."

"I really want people to understand what we are looking at," Clinton said.

Also in Washington, the White House suspended relations with the Libyan Embassy, and announced that it will soon send disaster assistance relief teams into eastern Libya.

Tom Donilon, President Barack Obama's national security adviser, said it would be a purely humanitarian mission that "can be in no way seen as a military intervention" and would be entering eastern Libya with the permission of the opposition.

U.S. National Intelligence Director James Clapper told a Senate hearing on that there was no indication that Qaddafi would step down and offer a speedy resolution of the crisis. He added that Qaddafi's forces are better equipped than the opposition and would likely eventually "prevail" in the conflict.

"We believe that Qaddafi is in this for the long haul," Clapper said. "I don't think he has any intention, despite some of the press speculation to the contrary, of leaving [power]. From all evidence that we have, which I'll be prepared to discuss in a closed session, he appears to be hunkering down for the duration."

NATO Discusses No-Fly Zone

In Brussels, European Union foreign ministers and NATO defense ministers met to discuss preparations for possible military action ahead of an EU leaders' summit on Friday.

Speaking after the meeting, NATO Secretary-General Anders Fogh Rasmussen said leaders had discussed "initial options regarding a possible no-fly zone in case NATO were to receive a clear United Nations mandate."

Rasmussen said NATO is also taking action to ease the humanitarian crisis of people fleeing the conflict.

"We have also directed NATO military authorities to develop, as a matter of urgency, detailed planning with regard to humanitarian assistance and, provided [there is] a further UN Security Council resolution, more active measures to enforce the arms embargo," he said.

EU Foreign Policy Chief Catherine Ashton stressed that it is "critical" to keep in constant touch with diplomats from the Arab League so that any international response has legitimacy.

"This is for the Arab world to lead on in their economic and political future and for us to be there to support. And that is critical to me," Ashton said.

Gulf Arab ministers meeting in Riyadh appeared to do just that today. The news agency of the United Arab Emirates reported that ministers issued a statement saying that Qaddafi's regime has lost its legitimacy. The Gulf Cooperation Council also called on the Arab League to take measures to stop the bloodshed, including the imposition of a no-fly zone to protect civilians.

The potential involvement of foreign military forces was the topic of an interview Qaddafi's son, Saif al-Islam gave today to journalists in Tripoli.

He vowed that his father's government would "never surrender" to what he called "those terrorists," saying "The Libyan nation is so united now. We are so strong."

"If [France and the West] want to support the militia, do it. But I will tell you right now, you are going to lose. We will win. And we are not afraid of the American fleet, NATO, France, the Europeans. This is our country. We live here, we die here," he said.

Al-Islam also said Libyans would "never welcome NATO or the Americans."

"Libya is not a piece of cake," he said. "We are not Mickey Mouse."

With agency reports