Russian human rights activist Yelena Bonner, widow of Nobel Peace Prize laureate Andrei Sakharov, died at her home in Boston on June 18 at the age of 88.
The cause of death has not been announced. Following a memorial service in the United States, Bonner will be buried alongside her husband and parents in Moscow's Vostryakovskoye Cemetery.
Bonner's voice was frequently heard on RFE/RL's Russian Service. She last appeared on December 10, 2010, when she commented on decisions by Russia and China to boycott the Nobel Peace Prize ceremony honoring Chinese activist Liu Xiaobo.
"Russia didn't surprise me. Russia does foolish things regularly. China upsets me, because it does such things even though it seems like a developed country," Bonner said.
"It ends up doing bad things, because economic development cannot exist without political change. And if there is a conflict between these two, the old policy wins -- that is what I am afraid of."
In addition, at the end of December 2010, she left the following comment on the website of RFE/RL's Russian Service. It was about a December 26 demonstration in Moscow's Pushkin Square, at which journalist Viktor Shenderovich read the following message from Bonner.
"I am a Muscovite," Bonner's web comment said. "I am a Jew of 'Caucasian nationality.' In 1941, I defended my country and in 1945, I wept with joy. In 1953, I protested against the so-called Doctors' Plot. For many years, since the spring of 1937, I waited for my mother somehow, some way to return from the gulag camp where she'd been sent. And when she returned and rang the doorbell, I didn't recognize her. I took her for a beggar.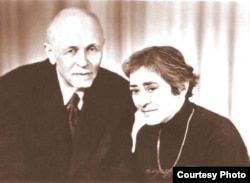 Andrei Sakharov (left) and Yelena Bonner in Gorki, 1985
"And all these years, my dreams have been filled with tears for my father, who was shot dead. My father had a stomach ulcer and I remember how in the evening he'd call me and say: 'Lusya-jan, prepare me a hot water bottle. My stomach is killing me.' And I cried for my grandmother, who raised three children orphaned by the 1937 Great Terror and who took her last breath during the blockade of Leningrad. And all my life I tormented myself -- was I to blame that my mother was arrested, that I didn't recognize her? Was I to blame that my father was shot in the head, that the headstone for him in the Vostryakovskoye Cemetery marks an empty grave? Was I guilty for not remaining in blockaded Leningrad and dying together with my grandmother?
"But I had to go and save my motherland! The motherland. And after that there was no strength left to save my family. There isn't even enough strength to go prepare a hot water bottle. But how does one save one's motherland? I didn't know then and I don't know now. Count me among those who come out to Pushkin Square on December 26. Consider me one of those who came out to once again save the motherland -- even though my legs no longer have the strength."
Victims Of Stalin's Terror
Yelena Bonner was born on February 15, 1923, into a family of Communist Party activists in Turkmenia (now Turkmenistan). Her parents were caught up in the 1937 Stalinist Great Terror. At age 18, she went to the front lines of World War II and served as a nurse on a military hospital train.
After the war, she graduated from the Leningrad Medical Institute. She was kicked out of the institute for her statements against the so-called Doctors' Plot and was reinstated after Stalin's death. In 1965, she joined the Communist Party of the Soviet Union, which she later said was one of the most serious mistakes of her life. In 1972, she quit the party and took up human rights activism.
Also in 1972, Bonner married physicist Andrei Sakharov. Much later, she said in an interview: "I don't like it when they call me Sakharov's wife or Sakharov's widow. I am my own person."
Bonner was among those who helped smuggle the diaries of Eduard Kuznetsov to the West and in 1973 she was repeatedly interrogated about this. In 1975, she created a fund for the children of Soviet political prisoners, using the money that Sakharov was given for winning the Prix Mondial Cina Del Duca the previous year.
Sakharov And Nobel
Bonner represented Sakharov at the 1975 Nobel Peace Prize ceremony in Oslo. On May 12, 1976, she signed the founding documents of the Moscow Helsinki Group. Together with Sakharov, she was sent into internal exile in the city of Gorki (now, Nizhny Novgorod) in 1980.
In 1984, a regional court found her guilty of under Article 190-1 of the Criminal Code, which outlawed "slandering the Soviet social or state structure." She was sentenced to a month of house arrest. In December 1986, she and Sakharov were allowed to return to Moscow. Sakharov died in 1989.
WATCH: Yelena Bonner talks about her husband: "He always felt the wind of change, but at the same time, he said he supported Gorbachev to varying degrees depending on what he was doing."
On December 28, 1994, she joined the Russian president's Commission on Human Rights. She later quit the commission, saying she could not work for a political regime that was conducting the war in Chechnya. Bonner headed the Sakharov Foundation. In the last years of her life, she lived in the United States.
On March 10, 2010, she was the first person to sign the statement of the Russian political opposition to the public entitled "Putin Must Go."
Remembering Yelena Georgiyevna
The current chairwoman of the Moscow Helsinki Group and one of Russia's oldest and most respected human rights activists, Lyudmila Alekseyeva, paid tribute to Bonner:
"She lived a long, vivid, and very productive life. We can envy her in many ways -- how much she managed to do and the happiness that she had in her life.

"She had wonderful children and a beloved husband -- what a husband! And her public work, the wide circle of her friends, the people who knew her and respected her courage and her intellect, her readiness to work for the good of humanity. We can only envy such a person."
Longtime activist Sergei Kovalyov, chairman of the NGO Memorial, called Bonner "a happy person":
"Yelena Georgiyevna lived an uncommonly bright, uncommonly full, and therefore, I would say, happy life. She was the devoted and beloved wife of Andrei Sakharov. She was a passionate person, and that passion was felt both by those whom she loved and those whom she did not love.

"She made mistakes, both in her personal and her political judgments -- but there was never falseness. There was always integrity, and she managed to accomplish a lot. But the main thing was her bright mutual love with Andrei Sakharov. About this there have been many slanderous and wrong hypotheses such as that, for instance, Bonner told Sakharov what to do, that she smothered him with her personality and forced him to do or not do certain things.

"But this is not true. Sakharov was a person who was absolutely free from any kind of outside pressure. He was attentive and willing to listen to various points of view, including first of all, Bonner's. You could convince him. You could change his mind, but you could never have a decisive influence over him. Bonner understood this and they lived together in harmony. I think this is far from her least important service in life. I'd even say, it was her greatest one."

The leader of the For Human Rights movement, Lev Ponomaryov, also remembered Yelena Bonner:
"I worked closely with Yelena Georgiyevna. I met her during the last two years of Andrei Sakharov's life, when he was running for the post of deputy in the Supreme Soviet and later when he was working in the so-called interregional group of deputies. He was working on his own draft constitution and was fighting for various pieces of legislation at the congress. He announced a national strike.

"These were all pretty intense moments in the political life of the country. There were a lot of meetings, discussions, and the first thing I remember about Yelena Georgiyevna was that all the decisions Sakharov made, he made together with her. This was a union of people -- not just a personal union (I saw how they loved one another), but it was a union of like-minded people who were carrying out a joint social and political program of activity. For me this was a surprising and impressive example that made a personal impression on me for my whole life.

"When Sakharov died, I remember that together with Bonner we created a public commission that worked against the state commission, because the government wanted to bury Sakharov quickly and quietly. But we had worked out our own plan.

"And I remember that I was one of the first to arrive after Sakharov's death and I was struck by the courageous calm with which she accepted this death and how she took upon herself all the heavy responsibility of the funeral. She understood that we were not simply burying a person but a massive public figure and that the funeral had to be a public event. She understood that and did everything to make that happen.

"After Sakharov's death, Bonner was a very active human rights defender. The positions of the human-rights community were worked out together with her. I didn't always agree with her, but all of my interactions with her were interesting and necessary and useful. Together we created a rights organization called Common Action and, even when she left for the United States and even after she became ill, she always closely followed events in Russia and was part of the united human-rights movement.

"And, of course, her death is a huge loss for all of us. In general, we must realize that the dissidents of the Soviet era are leaving us and this will likely have an impact on the strategy of our work in Russia. Something irreversible is happening and, of course, this weighs heavily on us. For us, this is an enormous loss."
translated from RFE/RL's Russian Service material