"The Tiger's Wife," a magic-filled account of the 1990s Balkan wars penned by a young author born in Belgrade, has won Britain's Orange Prize for Fiction.
At 25, Tea Obreht is the youngest author ever to receive the award, which has honored female writers from around the world for 16 years. "The Tiger's Wife" is her first novel.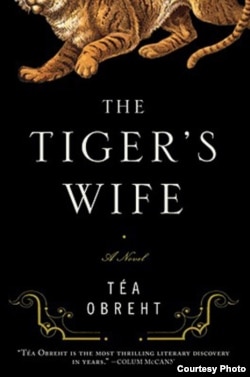 Although Obreht is seen as a rising literary star in the United States, where she has lived since the age of 12, her victory came as a surprise to many -- including herself.
The author admitted she was "stunned" as she picked up the prestigious award on June 8 at a ceremony in London.
The favorites touted to scoop the 30,000 pound ($49,100) prize had been Emma Donoghue for her novel "Room," Aminatta Forna for "The Memory Of Love," as well as writers Emma Henderson, Nicole Krauss, and Kathleen Winter.
Bettany Hughes, a broadcaster and author who chaired the Orange Prize judges, praised Obreht's debut novel as "an exceptional book."
"Why we came down to Tea Obreht in the end was just because she is so original," Hughes told RFE/RL. "She's immensely original, she's very exciting, she's very accessible, the writing is truly excellent. But also, there's some kind of alchemy to this book. When you read it, it just changes what you think about the world and the way you see it."
"The Tiger's Wife" is set is a fictionalized Balkan country in the early 1990s. Obreht blends realism, magical tales, childhood memories, and folklore to tell the story of a young doctor's journey through war-torn Balkan countries in search of answers about the mysterious death of her grandfather.
Tea Obreht reads a passage from "The Tiger's Wife"
Obreht's family left Belgrade at the start of the Balkan wars. They moved to the United States in 1997 after spending time in Cyprus and Egypt, where Obreht attended a British school.
She says her mixed ethnic background is reflected in her novel's lack of a distinct geographical setting.
"I was born in Yugoslavia when it was Yugoslavia. I was born in what is now Serbia, in Belgrade," Obreht said. "I, like a lot of people, am mixed, so I've been to Bosnia; there's a house that we have in Croatia as well, so [the book] is set all over the place. The city, in which the section with the tiger takes place, is based on Belgrade."
The Orange Prize cements Obreht's status as wunderkind writer.
She started working on "The Tiger's Wife" when she was just 22 during a creative writing course at Cornell University. Last year, "The New Yorker" magazine named her as the youngest of its Top 20 writers under 40 years old.
"The Tiger's Wife" is set to be translated into several other languages, including Obreht's native Serbo-Croat.