An Uzbek governor's plan to plant thousands of trees to beautify his dusty capital, Andijon, certainly sounded like a great idea to the city's residents.

But that was before they found out that they would be forced to buy the tree saplings needed to turn Andijon into a green city.

"The Eco-City campaign began on February 25 on Governor Shuhrat Abdurahmonov's initiative," a school director in Andijon's Asaka district told RFE/RL.

"As part of this campaign, I was ordered to purchase 50 fir-tree seedlings," the disgruntled director, who requested anonymity, said on March 4.
The contribution will cost the official about $100, nearly half of his monthly salary.

Many state workers and neighborhood committee members in the eastern Uzbek province have been ordered to pay for the young trees, several local officials claimed.

But they said they were "too afraid" to challenge Abdurahmonov's order, as dissent is rarely tolerated in the strictly controlled Central Asian nation.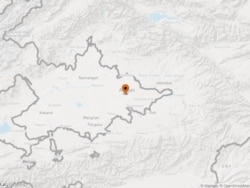 A neighborhood committee member in the Asaka district made a similar claim about being forced to pitch in to the Eco-City project.

"Each neighborhood committee must plant 500 trees along the sidewalks," he said. "In addition, we need to plant three or four trees in front of each residential house in the area. We have to pay for all of these trees from our own pockets."

The man spoke on condition of anonymity fearing repercussions for criticizing authorities.

Andijon regional authorities didn't return RFE/RL's calls for comment on the allegation workers are being forced to contribute to the Eco-City project in the eastern metropolis of some 400,000 people.

But a government worker said employees of the district administrations had been compelled to give money to the governor's green city project.

Speaking anonymously, the official said he was "forced to buy seedlings" for about $125, a big dent in his monthly family budget.

"We buy seedlings in bazaars or wherever they are sold," he said. "It's unfair that I have to pay half of my salary to buy trees for them."

The official said he doesn't think people should have to pay for any government initiative and that the governor should have allocated money from the state budget for his "city landscaping" project.

"But no one dares to ask the governor [why he didn't]," the official told RFE/RL.

Other citizens and state workers are paying for government "green projects" in other Uzbek regions, including Tashkent Province, it was reported last month.

Several parents in Tashkent's Olmaliq area told RFE/RL that school administrations were telling students to contribute money to buy trees.

Contacted by RFE/RL, school administrators in Olmaliq insisted the contribution was "voluntary."

Local government officials refused to comment.