Turkmen Leader Again Postpones Trip To Ukraine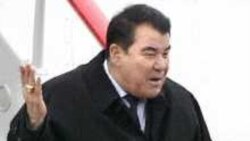 President Niyazov (file photo) Kyiv, 6 September 2005 (RFE/RL) -- The Ukrainian Foreign Ministry said today that Turkmen President Saparmurat Niyazov's planned visit to Ukraine has been postponed.
A ministry spokeswoman declined to provide a new date for the trip or a reason for the cancellation. Niyazov was due to arrive in Ukraine on 8 September for a three-day visit.
Turkmen officials have repeatedly announced plans for Niyazov to visit Ukraine over the last few years but none of
the visits has occurred.
Ukraine is heavily dependent on Turkmen gas, purchasing nearly half of its annual gas consumption from Ashgabat.
(RFE/RL's Turkmen Service, AFP)
For more news on Turkmenistan, see our news and features on Turkmenistan