Diplomats Discuss Russian Demand For OSCE Changes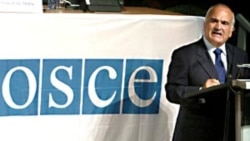 Vienna, 9 September 2005 (RFE/RL) -- More than 150 diplomats and international experts met in Vienna today to discuss Russia's demand for changes in the operations of the Organization for Security and Cooperation in Europe (OSCE).
Earlier this year, Russia vetoed the OSCE budget until the organization agreed to review the organization's focus on
human rights and election-monitoring.

Russia also wants the OSCE to amend military confidence-building measures agreed to in the 1980s that impose limits on the size and number of forces in Europe. Russia says the measures do not reflect the political changes in Europe.

Russia did not send an official representative to today's meeting, organized by the human rights organization International Helsinki Federation. A conference spokesman said Russia rejected the invitation, saying some of the speakers are
"hostile." Russian human-rights experts are among the scheduled speakers.