Karzai Urges Pakistan To Extradite Taliban Spokesman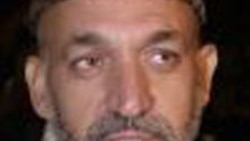 Afghan President Hamid Karzai (file photo) 6 October 2005 -- Afghan President Hamid Karzai said yesterday that Kabul wants Pakistan to extradite purported neo-Taliban spokesman Abdul Latif Hakimi, who was detained on 4 October.
Karzai made the demand in an interview in Paris with French television. He said Hakimi is responsible for "so many atrocities" in Afghanistan.
The United States also welcomed Hakimi's arrest, but there has been no word on whether Washington would also seek his custody.
Colonel Jim Yonts, a U.S. military spokesman in Kabul, said the United States is "grateful to the country of Pakistan" for Hakimi's capture.
Pakistani officials have been interrogating Hakimi about his possible links to Taliban leaders since his
arrest yesterday
. Hakimi, who was reportedly arrested in Pakistan's southwestern Baluchistan Province, had been purporting to speak for the neo-Taliban since at least early 2003.
Earlier reports said Hakimi had said that the ousted movement's fugitive leader, Mullah Mohammed Omar, is in hiding in Afghanistan.
(Reuters/dpa)
See also:

Pakistan Says No Decision On Handover Of Taliban Spokesman