Ukrainian Premier Looking Into Debts From Turkmen Gas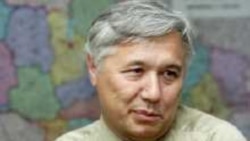 Prime Minister Yekhanurov (file photo) 14 October 2005 -- Ukrainian Prime Minister Yuriy Yekhanurov has blamed chief executives of the state oil and gas company Neftegaz Ukrainy for problems with the payments for Turkmenistan's gas deliveries to Ukraine.
Speaking on Inter television yesterday, Yekhanurov admitted that Ukraine owed up to $470 million for gas delivered by Turkmenistan.
He said he will visit Ashgabat on 26 October, adding that he will "sort things out" after the trip. Yekhanurov said he will pursue a "rigid state policy" about gas consumption and promised to find out who is stealing gas.
Earlier this week, Turkmen President Saparmurat Niyazov told Ukraine it must pay for nearly $500 million worth of natural gas. Turkmenistan has conditioned gas supplies to Ukraine in 2006 on payment of the debt for gas supplies this year.
(ITAR-TASS)
See also: Ukraine: Criminal Cases Filed Over Gas Schemes and, for more information on events in Ukraine, see RFE/RL's webpage News and Features on Ukraine