Turkmen Assembly Rejects 2009 Presidential Vote Again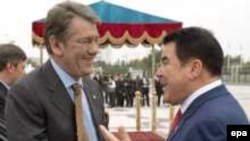 President Niyazov (R) meeting with Ukrainian President Viktor Yushchenko in March (epa) 24 October 2005 (RFE/RL) -- Turkmenistan's Halk Maslahaty, or People's Assembly, today rejected President Saparmurat Niyazov's call for 2009 presidential elections, RFE/RL's Turkmen Service reported.
The Halk Maslahaty is a roughly 3,000-seat body that meets once a year or when important decisions need the assembly's approval.

The Halk Maslahaty's decision today came after the head of the Central Election Commission, Myrat Garriev, reminded the assembly that in 1999 it elected Niyazov president-for - life.

The last time the Halk Maslahaty rejected Niyazov's idea of holding a presidential election in 2008 or 2009 was in October last year.

Niyazov regularly raises the issue of presidential elections, saying they should be held before his 70th birthday. He turned 65 in February this year.

Niyazov has been ruling Turkmenistan since 1985, when it was still a Soviet republic. In 1992 he was elected the first president of the newly independent state.