Nationalists Hold Moscow Holiday March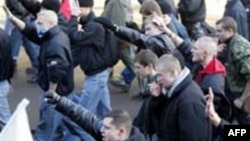 Demonstrators in Moscow today (AFP) 4 November 2005 -- On a new holiday meant to celebrate national unity today, right-wing and nationalist groups organized a march in Moscow to protest illegal immigration.
Russian media reported some 2,000 people took part in the march. According to the reports, some protesters chanted "Glory to Russia!" and "Russians, Arise!" Minor scuffles with activists of a liberal youth movement were reported.
The new holiday, People's Unity Day, marks the day in 1612 when popular militias drove Polish invaders out of Moscow.
Religious services were held across Russia today to mark the holiday and President Vladimir Putin, who established the holiday by decree last year, laid a wreath at the monument on Moscow's Red Square to the leaders of the Russian forces in 1612.
Russian media said some 2,000 police officers were out on the streets of Moscow to secure order.
(lenta.ru/ITAR-TASS)