Thousands Protest Peacefully In Azerbaijani Capital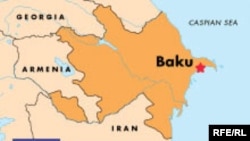 (RFE/RL) 19 November 2005 -- More than 10,000 people are estimated to have taken part in demonstrations in Baku today to protest the results of parliamentary elections earlier this month, RFE/RL's Azerbaijani Service reported.
The rally was peaceful and, despite a heavy police presence, no clashes were reported.
Protesters marched to the central square in Baku, denouncing what they say was a fraudulent poll and shouting "Step down!" in calls presumably intended for President Ilham Aliyev.
The protest was organized by an opposition bloc made up of the Azadliq, National Unity, and New Politics parties.
It is the third rally in Baku since the 6 November elections, in which President Ilham Aliyev's Yeni Azerbaycan (New Azerbaijan) party claimed an absolute majority in the 125-seat parliament. The elections have been criticized as undemocratic by many foreign governments and international human rights groups.

Some of the protesters today appealed to the United States for help, holding signs reading "Bush why are you keeping silent?" and "Don't Trade Democracy for Oil!"

Russia's ITAR-TASS news agency reported as the march toward the city center started that police with batons and metal shields were lining the route.

(compiled from wire reports)