Hu sent his congratulations as Nazarbaev begins a new seven-year term as Kazakhstan's leader. He has been leader of Kazakhstan since 1989.
Nazarbaev's won in a landslide, garnering 91 percent of the vote.
The United States, like the Organization for Security and Cooperation in Europe (OSCE), says the vote was an improvement on previous elections but still failed to meet democratic standards.
A group of British parliamentarians led by Lord Cecil Parkinson, a former government minister, said the vote was free, fair, and transparent. So did the Russian-led CIS election-monitoring group headed by CIS Executive Committee Secretary Vladimir Rushailo.
Nazarbaev's 16-year rule has transformed Kazakhstan into an emerging oil power. During the election campaign, he promised to double salaries and pensions during his next term and to raise per-capita income to Eastern European levels.
(AFP/Interfax)
The Voting In Images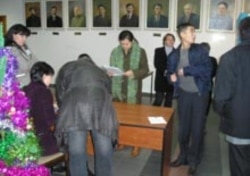 Workers at Almaty polling station No. 310 registering election monitors prior to the opening of voting on December 4


To see more images collected by RFE/RL's Kazakh Service during the voting on December 4,
click here.



RFE/RL's complete coverage and background of Kazakhstan's presidential election on December 4, 2005.