EU Chief Congratulates Nazarbaev On Reelection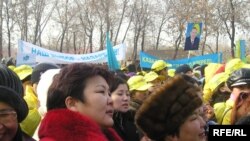 A demonstration in support of Nazarbaev in Almaty on 2 December 2005 (RFE/RL) 8 December 2005 -- The European Commission president has congratulated Kazakhstan's President Nursultan Nazarbaev on his reelection.
Jose Manuel Barroso said on 8 December that he hopes Nazarbaev will be able to "further deepen democracy" in the republic, notably by ensuring that electoral processes are held in "full compliance" with international standards.
Earlier this week, the Organization for Security and Cooperation in Europe (OSCE) said the election did not meet international democratic standards, and that Nazarbaev's victory on 4 December was flawed by ballot stuffing, intimidation, interference, campaign restrictions, and other violations.
Barroso's statement came on a day that Kazakh authorities seized the entire print run of the latest issue of the opposition newspaper "Juma Times."
The edition carried allegations about manipulation in the 4 December vote. Editors at the paper say they were given no official reason for this latest seizure.
In early November, the newspaper was seized for what authorities said was "deliberately false" information that impugned the reputation of President Nazarbaev.
(AP)