Bosnia's EU Bid Gets Romanian Support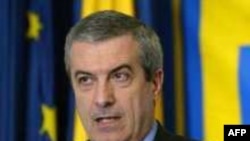 Romanian Prime Minister Tariceanu has offered Bosnia his country's support in joining the EU (AFP) 12 December 2005 -- Romanian Prime Minister Calin Tariceanu has offered Bosnia-Herzegovina his country's support on its road towards eventual membership of the European Union.
Speaking in Sarajevo today at a meeting with his Bosnian counterpart, Adnan Terzic, Tariceanu said Romania is ready to share its experience with Bosnia on the "difficult path" to integration in the EU.
Romania and Bulgaria are candidate EU members and hope to join the bloc in January 2007.
Last month Brussels launched landmark negotiations on a stabilization and association agreement with Bosnia, saying the start of the talks proved the country had come a long way since the end of its 1992-1995 war.

(AFP)

SUBSCRIBE
For a regular review of politics, media, and RFE/RL broadcasts in the western Balkans,
subscribe to "RFE/RL Balkan Report."