Uzbek Minister Accused Of Crimes Against Humanity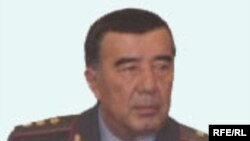 Zokirjon Almatov (file photo) (RFE/RL) 15 December 2005 -- Survivors of torture and a government crackdown on an uprising in the eastern Uzbek city of Andijon in May have filed a lawsuit against Uzbekistan's Interior Minister Zokirjon Almatov.
The New York-based Human Rights Watch said today the suit was filed with German federal prosecutors on 12 December. It calls for the prosecution of Almatov for alleged torture and crimes against humanity.
The rights group said German law allows prosecution of cases of torture and crimes against humanity regardless of where they are committed. However, it was not immediately clear if German prosecutors would take up the case.
The group said it hopes Almatov, who is believed to be in Germany for medical treatment, will be arrested.
Uzbek officials say 187 people, mostly terrorists, were killed in the Andijon uprising. Rights advocates estimate the death toll to be much higher, with civilians numbering among the dead.
(hrw.org/AP)