French Defense Minister Michele Alliot-Marie said that she had discussed the continued presence of French troops in Tajikistan during a meeting with Tajik President Emomali Rakhmonov on 19 December.
Two French military transport aircraft and about 150 technicians and soldiers are deployed at Dushanbe airport to provide support to the French contingent in Afghanistan.
Rakhmonov and Alliot-Marie also discussed the possibility of expanding cooperation, including in agriculture and tourism.
The French defense minister was making a brief stopover in Dushanbe en route from the Afghan capital Kabul to Paris.
(Avesta/ITAR-TASS)
Central Asia Bases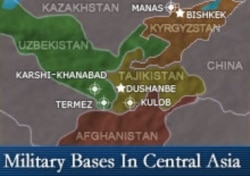 Click on the map for an enlarged image.