Kyrgyz Bloc Urges Government To Carry Out Reforms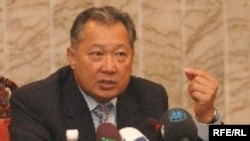 Kyrgyz President Bakiev is being urged to make greater reforms (file photo) (RFE/RL) Bishkek, 24 December 2005 (RFE/RL) -- The sixth congress of Kyrgyzstan's People's Movement took place today in Bishkek with delegates calling on the government to carry out reforms as quickly as possible.
RFE/RL's Kyrgyz Service reports that the opposition movements and parties gathered for the congress adopted a resolution that called on President Kurmanbek Bakiev to move toward adopting a new constitution and reporting regularly on his activities as head of state.
The chairman of the opposition Asaba movement, Azimbek Beknazarov, addressed the congress. "Kyrgyzstan's people expected very crucial changes and reforms from us [the leaders of the popular uprising on 24 March]," he said. "However, we failed to carry out such fast changes and reforms after the revolution."
The resolution also calls for the dismissal of officials from the government of former Kyrgyz President Askar Akaev who are still serving in the new government.
Protests following parliamentary elections at the start of the year forced Akaev out of office in late March.
President Bakiev was invited to the congress but did not attend.
(RFE/RL's Kyrgyz Service)
RFE/RL Central Asia Report

SUBSCRIBE For regular news and analysis on all five Central Asian countries by e-mail,
subscribe to "RFE/RL Central Asia Report."