Iranian Foreign Minister In Afghanistan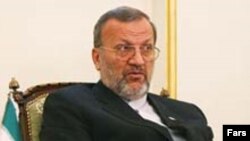 Manucher Mottaki (file photo) (Fars) 26 December 2005 -- Iran's Foreign Minister Manuchehr Mottaki has arrived in Afghanistan's capital Kabul, where he was welcomed by his counterpart Abdullah Abdullah.
During his stay, Mottaki is also to meet with President Hamid Karzai and the president of the parliament's lower house Yunus Qanuni.
This is Mottaki's first visit to Afghanistan since he became foreign minister in August.
(IRNA)

THE COMPLETE PICTURE: RFE/RL's complete coverage of controversy surrounding Iran's nuclear program.
CHRONOLOGY
An
annotated timeline
of Iran's nuclear program.