No Result In Ukraine's Talks With Gazprom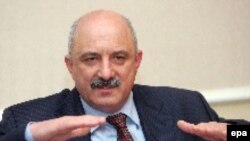 Ukrainian Energy Minister Ivan Plachkov met with his Russian counterpart in Moscow (file photo) (epa) 28 December 2005 -- Ukrainian Energy Minister Ivan Plachkov met this evening with his Russian counterpart Viktor Khristenko in Moscow to try to resolve a spiraling dispute over the price of Russian gas exports to Ukraine. The talks ended without results and are due to continue tomorrow.
Russia's state-run gas firm Gazprom wants to more than quadruple its prices to Ukraine as of 1 January. But Ukraine wants a gradual phase-in of world market prices.
Before the talks, a member of Gazprom's board of directors, Boris Fyodorov, spoke to journalists.
"Russia is not asking for anything excessive," he said. "Gazprom doesn't want anything that belongs to somebody else and it is not trying to take anything away from anybody. But ... find me an American firm or a German firm that would give away its product for a third of the price. This is simply nonsense. Nobody in the world does that and neither should Russia."
Earlier, the office of Ukrainian President Viktor Yushchenko said it may use a nuclear disarmament pact to appeal to the United States and Britain for help in the price dispute.
The Russian Foreign Ministry rejected that move as "having no basis."
Under the 1994 "Budapest Memorandum," the United States, Britain, and Russia gave Ukraine security guarantees in exchange for Kyiv's renunciation of nuclear weapons.
(agencies)
RFE/RL Belarus, Ukraine, And Moldova Report

SUBSCRIBE For weekly news and analysis on Belarus, Ukraine, and Moldova by e-mail,
subscribe to "RFE/RL Belarus, Ukraine, And Moldova Report."