Ukraine PM To Press Putin On Gas Price Hike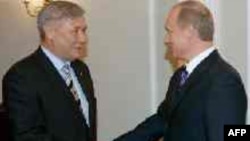 Yekhanurov (left) at a meeting with Russian President Putin in September (AFP) 26 December 2005 -- Prime Minister Yuriy Yekhanurov has said Ukraine is set to appeal to Russian President Vladimir Putin to help resolve a bitter dispute on gas prices with Moscow's state-owned monopoly Gazprom.
Interfax quoted Yekhanurov as saying today that Kyiv would file a request calling on Putin, as head of the Commonwealth of Independent States (CIS), to bring his influence to bear on Gazprom.
Gazprom announced yesterday that it would stop supplying gas to Ukraine on 1 January if a dispute over prices was not settled.
Aleksei Ivchenko, chairman of Ukraine's gas company Naftogaz Ukrayiny, responded today by saying that Ukraine
has enough gas reserves
to last through the winter.
Gazprom wants to nearly quadruple the price of gas supplies to Kyiv.
Ukraine wants the hike to be phased in over several years. It also says Russia wants to punish Ukraine for its new pro-Western stance.
(ITAR-TASS/AFP)