Gazprom Threatens To Cut Gas Supply To Ukraine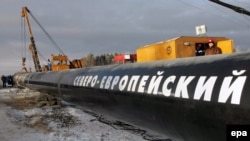 (epa) Moscow, 25 December 2005 (RFE/RL) -- A top Gazprom official today said that the Russian gas monopoly will stop supplying gas to Ukraine on 1 January if a dispute over prices is not settled until then.
Aleksandr Medvedev, the head of Gazprom's export branch Gazpromexport, said the gas will be turned off in the morning (0800 Prague time) of 1 January if talks fail.
Gazprom wants to hike the price for 1,000 cubic meters from under $50 to $230, what it says is in line with international prices.
But Ukrainian leaders say Russia wants to punish them for the country's new pro-Western stance.
Medvedev also warned that Gazprom is ready to take Kyiv to an international arbitration court if Ukraine taps into the pipeline network used to export Russian gas to western countries.
Some 80 percent of Gazprom's gas exports to Western Europe transits through Ukraine.
(Reuters/AFP/Interfax/RFE/RL's Russian Service)