Two Killed In Afghanistan Blasts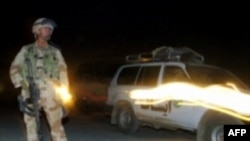 Aftermath of a suicide attack in Kabul, September 2005 (AFP) Kabul, 29 December 2005 (RFE/RL) -- Two people blew themselves up in an Afghan town bordering Pakistan today, RFE/RL's Afghan Service reports, citing police sources.
A commander with the Afghan border force, Abdul Raziq, said the two apparent would-be suicide bombers triggered their explosives in Spin Boldak, killing only themselves.
In a separate development, the U.S. Embassy in Kabul on 29 December released an open letter to Afghans from U.S. Defense Secretary Donald Rumsfeld, in which Rumsfeld hails Afghanistan's progress towards democracy.
Rumsfeld, who visited Afghanistan on 21 December, says that Afghanistan could serve "as a model for other nations still seeking to be free."
(with Reuters)