Thousands Of Shi'a Protest In Baghdad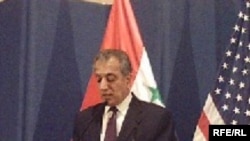 U.S. Ambassador Zalmay Khalilzad is a target of the protests (RFE/RL) 6 January 2006 -- Thousands of Iraqi Shi'a demonstrated today in Baghdad against U.S. Ambassador Zalmay Khalilzad and Sunni Arabs after a series of attacks earlier this week killed more than 200 people -- most of them Shi'a.
More than 5,000 protesters chanted slogans against Khalilzad and moderate Sunni leaders such as Adnan al-Dulaimi.
But the crowd focused most of their anger on more hard-line Sunni leaders like Saleh al-Mutlaq, of the Sunni Arab National Dialogue Front.
The demonstration was organized after Friday prayers by Iraq's main Shi'ite party, the Supreme Council for the Islamic Revolution, which issued a statement saying its patience was wearing thin.
Suicide bombers struck on 4 and 5 January across Iraq, with one attack in the city of Karbala, home to some of the holiest Shi'ite shrines.
(AP/AFP)

SUBSCRIBE For weekly news and analysis on Iraq by e-mail,
subscribe to "RFE/RL Iraq Report."