U.S. To Announce New Afghan Financial Aid Package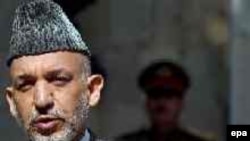 Afghan President Hamid Karzai (file photo) (epa) 27January 2006 -- The United States says it will announce a big financial aid package for Afghanistan at a key conference in London on the country's future.
The talks -- on 31 January and 1 February -- are to be attended by 70 countries.
Senior State Department official Nicholas Burns told reporters in Washington today that the United States will announce a major financial contribution for the next fiscal year for economic and military support to Afghanistan.
He said the money would be on top of $10 billion the United States has given to Afghanistan since it helped oust the Taliban regime in 2001.
(AFP)

Afghanistan's Musical Revival


BACK IN THE GROOVE Decades of war and the Taliban's five-year ban on music took their toll on Afghan classical music. Musicians have been trying to resuscitate the art since the end of Taliban rule. But they face serious economic and artistic challenges -- including the threat of possible attack by Taliban fighters if they perform in provincial areas...(more)


WATCH
View slideshow of Afghan musicians.
RealVideo