The two-day meeting is expected to result in support for a five-year plan -- the Afghanistan Compact -- setting out goals for economic development, increased security, success in the battle against corruption, and the illegal opium trade.
Representatives of more than 70 countries and international organizations are attending the meeting, which is being chaired by Afghan President Hamid Karzai, British Prime Minister Tony Blair, and United Nations Secretary-General Kofi Annan.
Ahead of the meeting, Russia announced it is ready to forgive an estimated $10 billion in Soviet-era debts owed to Moscow by Afghanistan.
The United States is expected to announce a major financial contribution to Afghanistan at the meeting. Secretary of State Condoleezza Rice has pledged that America would not repeat its past mistake of neglecting Afghanistan.
(compiled from agency reports)
Foreign Minister Abdullah Abdullah
Foreign Minister Abdullah Abdullah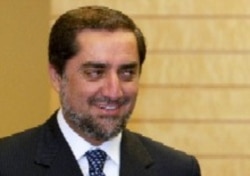 Abdullah Abdullah (epa)


Afghan Foreign Minister ABDULLAH ABDULLAH on January 21 spoke by telephone with RFE/RL Afghan Service correspondent Zarif Nazar. Abdullah discussed the most recent videotaped message from Al-Qaeda leader Osama bin Laden, the current state of the Taliban, terrorist attacks in Afghanistan, and the upcoming London conference on the Afghanistan Compact.
To read the complete interview,click here.