The vote had attracted wide attention due to its possible impact on Western efforts to boost security in the region, the site of NATO's first significant "out of area" operations in its half-century existence.
Balkenende late yesterday described parliament's support as broad, and said he expected the cabinet to formalize the decision to deploy the forces later today.
The Dutch forces are intended to go to Oruzgan Province to help increase NATO peacekeeping and reconstruction work in Afghanistan's troubled southern regions. Britain and Canada are among the other main contributors of forces to the expanded NATO mission.
The Dutch move comes after weeks of political debate and international pressure on the Netherlands to deploy the forces. The Netherlands already has more than 600 troops deployed elsewhere in Afghanistan.
(compiled from agency reports)
Foreign Minister Abdullah Abdullah
Foreign Minister Abdullah Abdullah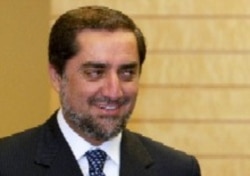 Abdullah Abdullah (epa)


Afghan Foreign Minister ABDULLAH ABDULLAH on January 21 spoke by telephone with RFE/RL Afghan Service correspondent Zarif Nazar. Abdullah discussed the most recent videotaped message from Al-Qaeda leader Osama bin Laden, the current state of the Taliban, terrorist attacks in Afghanistan, and the upcoming London conference on the Afghanistan Compact.
To read the complete interview,click here.