Iran Terms Moscow Talks 'Constructive'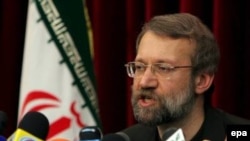 Ali Larijani (file photo) (epa) 22 February 2006 -- Iranian chief nuclear negotiator Ali Larijani has described as "constructive" the two-day nuclear talks that ended on 21 February in Moscow.
Speaking to journalists in Tehran today, Larijani expressed hope that the Russian proposal to enrich uranium for Iran could help resolve tensions around the Islamic Republic's nuclear program.
Larijani said Iran wants to remove Western "concern, or in some rather excuses" that Tehran is seeking nuclear weapons.
But he also insisted on the country's right to proceed with uranium enrichment for research and development purposes.
Russian Federal Atomic Energy Agency chief Sergei Kiriyenko is scheduled to visit Iran for further talks later this week.
(IRNA, dpa)

THE COMPLETE PICTURE: RFE/RL's complete coverage of controversy surrounding Iran's nuclear program.
CHRONOLOGY
An
annotated timeline
of Iran's nuclear program.