Iranian Women Denied Entry To Football Match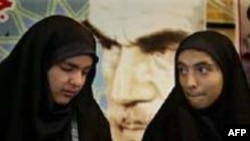 In Iran, it is considered "un-Islamic" for women to attend male sports events (file photo) (AFP) PRAGUE, 1 March 2006 (RFE/RL) -- A group of young Iranian women who wanted to watch a friendly football game between Iran and Costa Rica at a Tehran stadium were today denied entry.
One of the women, who did not want to be named, told Radio Farda that by entering the Azadi stadium and watching the game they wanted to exercise their civil rights.
"We all have tickets and we want to enter the stadium legally," she said. "We will insist [on our rights] and try to convince them as much as we can so that they let us in."
Women in Iran have been barred from attending football matches since the establishment of the Islamic republic some 27 years ago.
But last year a group of women pushed their way into a stadium to watch a football game between Iran and Bahrain.
In Iran it is considered un-Islamic and incorrect for women to attend men's sporting events.

SUBSCRIBE For regular news and analysis on Iran by e-mail,
subscribe to "RFE/RL Iran Report."