Today's talks were the latest attempt to end the deadlock over Iran's nuclear program.
The talks came ahead of a meeting on March 6 of the International Atomic Energy Agency (IAEA) on whether to refer Iran to the UN Security Council for possible sanctions. Western governments fear that Tehran may be seeking to develop nuclear weapons. Tehran denies it is seeking nuclear arms.
Two days of talks between Iranian and Russian officials in Moscow ended on March 2 without a breakthrough. Russia had proposed enriching uranium for Iran as a means of allaying concerns about the nature of Iran's nuclear program.
(AP, AFP, Reuters)
The EU's View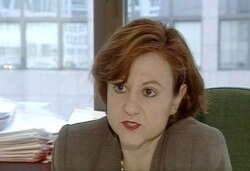 Christina Gallach (courtesy photo)
ALL EYES ON RUSSIA:
On February 21, Radio Farda correspondent Fariba Mavaddat spoke with
CHRISTINA GALLACH,
spokeswoman for EU High Representative for Common Foreign and Security Policy Javier Solana, about the previous day's meetings in Brussels between EU leaders and Iranian Foreign Minister Manuchehr Mottaki. Gallach emphasized that there are currently no negotiations being conducted between Iran and the EU regarding Iran's nuclear program.
To read a complete transcript of the interview,
click here
.
To view the complete archive of RFE/RL's coverage of Iran's nuclear program, click here.