The report says Iran's "already poor record on human rights" worsened in 2005.
It adds that the Iranian government continued to commit "numerous, serious" abuses, ranging from summary executions -- including of minors -- to torture, and severe punishments such as amputations and flogging. It also notes violence by vigilante groups with ties to the government and arbitrary arrests and detentions, including prolonged solitary confinements.
Lack of fair public trials, severe restrictions on civil liberties and freedom of religion, and child labor are among the other reported cases of human rights abuses.
The report also notes that women, ethnic and religious minorities, and homosexuals face violence and discrimination.
For an overview of the State Department report, click here.
Security Guarantees For Iran?
Security Guarantees For Iran?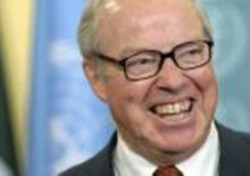 Hans Blix (CTK)

SECURITY GUARANTEES On January 26, RFE/RL Radio Farda correspondent Fatemeh Aman spoke with former UN chief weapons inspector HANS BLIX about the confrontation between Iran and the international community over Tehran's nuclear ambitions. Blix urged the United States to participate in direct negotiations with Tehran and to offer Iran security guarantees that are similar to those being discussed with North Korea...(more)
LISTEN
Listen to the complete interview (about five minutes):

Real Audio
Windows Media

THE COMPLETE STORY: RFE/RL's complete coverage of controversy surrounding Iran's nuclear program.