The U.S. State Department, in its annual report on human rights worldwide, also said the Russian government's human rights record in the continuing conflict in and around Chechnya remained poor.

It said there continued to be what it described as "credible reports" that federal armed forces engaged in unlawful killings in Chechnya, as well as in politically-motivated disappearances in Chechnya and Ingushetia.

The report said federal and pro-Moscow Chechen forces, as well as Chechen rebel forces, violated the human rights of civilians, inflicting widespread civilian casualties, abductions, and other abuses.

On the positive side, the report said the judiciary demonstrated greater independence in a number of cases, producing improvements in the criminal justice system. It said Russia also made progress in combating trafficking in persons.
For an overview of the State Department report, click here.
The Chechnya Conflict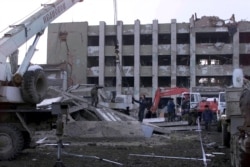 The aftermath of a December 2002 Chechen resistance attack on the main government building in Grozny (epa)


CHRONOLOGY
The
fighting in Chechnya
has raged, with short breaks, since 1994. It has brought misery, death, and destruction to the North Caucasus republic and to Russia as a whole. View an
annotated timeline
of the conflict.

ARCHIVE
RFE/RL's complete coverage of Russia's war-torn Republic of Chechnya.