Gil-Robles last visited Chernokozovo five years ago, when he called for its immediate closure. In 2000, the camp became the subject of international criticism following allegations by former inmates of routine torture, beatings, and humiliation of prisoners.
According to the Russian news agency Interfax, Gil-Robles said he was astonished by the changes for the better that have been made since then.
His arrival in Chechnya comes just days after a visit to the war-torn Russian republic by
United Nations High Commissioner for Human Rights Louise Arbour
, who said she was deeply disturbed by accounts of torture and kidnappings.
(AFP, Interfax)
The Chechnya Conflict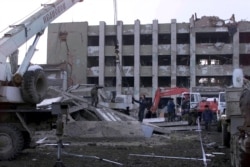 The aftermath of a December 2002 Chechen resistance attack on the main government building in Grozny (epa)


CHRONOLOGY
The
fighting in Chechnya
has raged, with short breaks, since 1994. It has brought misery, death, and destruction to the North Caucasus republic and to Russia as a whole. View an
annotated timeline
of the conflict.

ARCHIVE
RFE/RL's complete coverage of Russia's war-torn Republic of Chechnya.