More Than 40 Killed In Baghdad Attacks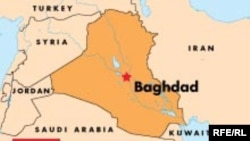 (RFE/RL) March 13, 2006 -- At least 46 people have been reported killed and some 200 others injured in a series of apparently coordinated car bomb attacks in a Shi'ite neighborhood of the Iraqi capital, Baghdad.
Reports say up to six car bombs exploded in the afternoon of March 12 in market areas of the Sadr City neighborhood.
The Sunni-based Iraqi Islamic Party has issued a statement condemning the bombings and urging all Iraqi political groups to cooperate to end bloodshed.
The attacks occurred shortly after officials announced that the new Iraqi parliament would hold its first session on March 16, three days earlier than had been announced.
However, political leaders reported no breakthrough in talks, attended by U.S. Ambassador Zalmay Khalilzad, to form a unity government. Negotiations are expected to resume today.
(compiled from agency reports)