Freed Afghan Convert Heading For Italy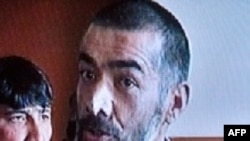 Abdul Rahman pictured in a Kabul court house on March 23 (AFP) March 29, 2006 -- News agencies are reporting an Afghan man who faced the death penalty for converting from Islam to Christianity has left Afghanistan.
Agencies quote unnamed foreign diplomats in Kabul as saying the man, Abdul Rahman, has left for Italy, where he has been granted asylum. The reports said he is expected to arrive in the country later on March 29.
Rahman had been facing possible execution on charges of leaving Islam, a crime in Afghanistan. He was released on March 27 after the court dropped the charges, on the grounds that he was suffering mental illness.
Rahman's case had strained relations between Afghanistan and the West and was widely viewed as a test of the country's commitment to human rights.
(Reuters, AFP)