Italy To Consider Offering Asylum To Afghan Convert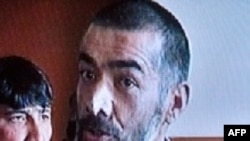 Abdul Rahman pcitured in a Kabul court on March 23 (AFP) March 29, 2006 -- Italian Foreign Minister Gianfranco Fini is expected today to ask the Italian government to grant asylum to an Afghan man who had faced the death penalty for converting from Islam to Christianity.
In a written statement, the Italian Interior Ministry said Rome usually grants political asylum in similar cases.
The convert, Abdul Rahman, was released from a prison near Kabul after a court dropped apostasy charges against him due to a lack of evidence and suggestions that he might be suffering from a mental illness.
Afghan officials on March 28 said that he is now at a "safe" location.
Rahman's release has drawn criticism from some Afghan conservatives, who argue he should be put on trial and sentenced to death for violating Islamic law.
(compiled from agency reports)