OSCE To Monitor Tajik Presidential Elections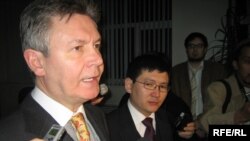 OSCE Chairman Karel De Gucht in the Kazakh capital, Astana, on March 27 (RFE/RL) DUSHANBE, March 29, 2006 (RFE/RL) -- Belgian Foreign Minister Karel De Gucht, the current chairman of the Organization for Security and Cooperation in Europe (OSCE), has secured permission from Tajik President Imomali Rakhmonov for the OSCE to monitor Tajikistan's presidential election this November.
Speaking after a meeting with Rakhmonov in the Tajik capital, Dushanbe, De Gucht said "we also proposed that we would work together in establishing standards for those elections."
He described the elections as "a very important benchmark on Tajikistan's road to democracy," RFE/RL's Tajik Service reports.
De Gucht arrived in Tajikistan from Turkmenistan, where he had talks with Turkmen President Saparmurat Niyazov on March 29.
The Belgian foreign minister visited Kyrgyzstan on March 28, and Kazakhstan on March 27. He is expected to head for Afghanistan later this week.
The OSCE says it is the world's largest regional security organization, with 55 members in Europe, Central Asia, and North America.
RFE/RL Central Asia Report

SUBSCRIBE For regular news and analysis on all five Central Asian countries by e-mail,
subscribe to "RFE/RL Central Asia Report."