Moscow's Mayor Listed As 'Homophobic'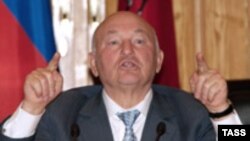 Moscow Mayor Yury Luzhkov (file photo) (ITAR-TASS) PRAGUE, May 18, 2006 (RFE/RL) -- Moscow's mayor, Yury Luzhkov, has been denounced as homophobic by the U.S.-based group Human Rights Watch for vowing to ban gay pride parades in the Russian capital.
Luzhkov features on a list of public officials that Human Rights Watch says have actively promoted prejudice against homosexuals. Others on the list, produced to coincide with the International Day Against Homophobia, which was marked on May 17, include Nigeria's President Olusegun Obasanjo and Dutch Immigration Minister Rita Verdonk.